Organisation
A word from the Dean, Jan Kolen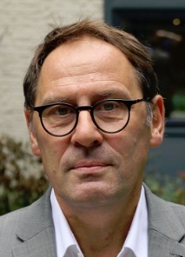 "The new Board of the Faculty of Archaeology looks forward to addressing a number of issues in the coming months. In order to formulate successful policies, we need the input of the staff, and we will be having discussions, within the Departments, Research Groups, and individually. After one hundred days, at the Faculty Staff Meeting in December we will present our findings.
Our recruitment activities have been very successful. More than 100 new Bachelor's students began a BA at FdA in September. The Master's has attracted 80 students, and after the February intake of 2019, this number will most likely also pass 100.
The new Bachelor's specialisation in Heritage and Society has commenced. We recognise that the teaching staff may experience extra pressure because of this. There may have been too much a top-down mentality in the project of the renewal of the bachelor's programme last year. From now on, we will endeavor to organise projects bottom up, in close collaboration with the staff. We are confident that the innovations will turn out to be a success in the near future.
The recent University Staff Survey (Personeelsmonitor) provided us with important information about issues and pressure points within our Faculty. We have been discussing the results with the Heads of Departments, and we will act on them this year. We want to improve the social climate in this Faculty without forgetting our scientific performance, of course. This is something we will need to do collectively and we hope you will all participate in this. In the following months we will have further meetings with the staff and we will summarise our findings at the Faculty Staff Meeting of December.
Due to changes in the flow of subsidies, our research strategy may need some redesign in the coming years. For example, we may need to place an emphasis on collaboration and on consortium (network) proposals, working together with other institutes abroad. Additionally, we need to focus more on the quality of research output (diversity in publications, societal impact). Bleda Düring, as Research Director, has several ideas about this, such as the collective writing of handbooks for students to be published with publishers like Routledge, Cambridge UP, Oxford, etc. It is our aim to consult the Research Committee and Education Committee more intensively for advice on important matters like the QS ranking, our publication strategy, exchange programs, collaboration between the Departments in teaching and research etc., so that we will be able to define a new future for our Faculty collectively, instead of using committees simply for internal "checks and balances".
We will continue to inform you about our progress and activities in the monthly newsletter."
Jan Kolen, Dean
If you have any ideas or suggestions for the Board on these matters, please contact Janneke Mulders.