Organisation
Faculty of Archaeology: Invitation Round-table Meetings, Staff and PhD Census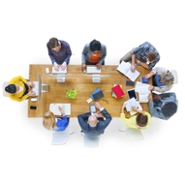 The results of the staff and PhD census are being shared and discussed at different levels within our organization. The Faculty Board and the Department Chairs are committed to keeping this topic on the agenda, and wish to discuss the outcomes with all staff members. Six round-table meetings are being organized in November and December this year to discuss, in depth, positive points and long & short-term solutions.
Four of the round-table meetings will discuss a specific topic, such as workload, leadership, social safety and communication. These meetings are open to all of our staff members. Two of the round-table meetings are reserved especially for our PhD candidates and will focus on specific topics from the PhD census. One round-table meeting is reserved for our Professors.
Maaike Mentink (an external organization expert from Winston & Partners) together with Janneke Mulders (Secretary of the Board at FdA) will lead these two-hour round-table meetings. In order to get the best results out of these meetings, the size of the group will be 6-8 persons per meeting. The meetings will all be held in A2.02a.
Sessions
Session Workload (Wednesday 21st of November, 13.00-15.00 hours)

Session Social safety (Tuesday 27th of November, 15.00-17.00 hours)

Session Leadership (Thursday 29th of November, 15.00-17.00 hours)

Session Communications (Wednesday 5th of December, 10.00-12.00 hours)



Session for PhD candidates ( Thursday 6th of December 15.30-17.30 hours)

Session for Professors (Tuesday 4th of December 15.00-17.00 hours)
Register now!
You can register now for one of the meetings by completing this short registration form.
Registration is on a first come-first served basis.
We hope that you will share your experiences, ideas and thoughts. Thank you.