Organisation
Tips & tricks for video calls
Most of us are spending more time looking at computer screens. It's just one of the effects that the coronavirus is having on our everyday lives. Video calling has become a popular way of keeping in touch for professionals but it's not without its problems. The two most frequently heard complaints are a general sense of fatigue and a lack of non-verbal cues. A few tips & tricks:
Take a walk outdours
To combat fatigue, start your day with a walk outdours and end it the same way, as if you're walking to and from work.
Stretch between meetings
Another good tip is to shorten each meeting by about 15 minutes to allow for a stretch in between sessions.
Internet connection
A good internet connection is vital for online meetings. If you don't have a good connection a phone call is much the better option. Nothing is more stressful and tiring than having to pick up the thread of the conversation every couple of minutes. Find out if a wi fi booster will remedy the problem, or better still, go for a direct cable connection.
Sound quality
Bad sound quality is another assault on your energy. Some participants will bring forth a creaky, echoey or barely audible sound, usually because they are using an old laptop. People who are using a headset do much better. Headsets have the added advantage of filtering out ambient sound. Your ears will thank you for not having to filter out distracting noises and a near normal audio quality.
Quality of the image
It is very difficult to pick up on non-verbal cues if the quality of the image is insufficient. Your eyes have to work even harder to read the information.
Backlight
In the image on the left half of the woman's face is invisible because of the light coming in from the window behind her. You can solve this by facing the window, which, apart from illuminating your face, has the added advantage of allowing you to look outside and rest your eyes a bit by changing your focus.
Low light
Sometimes the lighting in a room is insufficient. The light on the man's face in the image comes mainly from his computer. That gives the image a grainy look which is not very flattering. The solution to this is to experiment with the lighting.
Position
Position is important too. It is best to keep in mind the position of a newsreader. The chin and mouth of the woman in the image are largely invisible and that means many nonverbal cues will not find their way to the other person(s) in the meeting. It may look as if the participant is not completely present, as is indeed the case, or ducking.
Cutout
The image on the left show a person in the proper position and with adequate lighting. By including part of the upper body hand gestures become visible as well.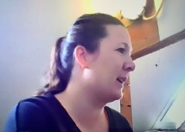 Field of view
Using a second screen makes for a more comfortable video calling experience as well. It is better for the other participant(s) if you look at the screen with the camera, so they will see more than your profile alone and consequently won't miss out on facial expressions. It also avoids the unintended slights of ignoring the speaker by turning away or not making eye contact.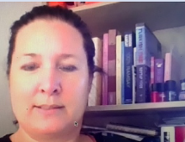 Background
There are plenty of colourful backgrounds to choose from. Waving palms and a surfboard would be an excellent choice when invited to an online beach party. For a meeting that requires calm and concentration it is best to tone it down.
In short, image, connection and sound quality are crucial for successful online communication. If you find any of the meeting participants lacking in any of these respects, discuss the matter or send them this article. It will help keep video calling fatigue at bay.
Source: Mens- en organisatieontwikkeling, www.allettawubben.nl