Education, Organisation
The week of….Ayo Adedokun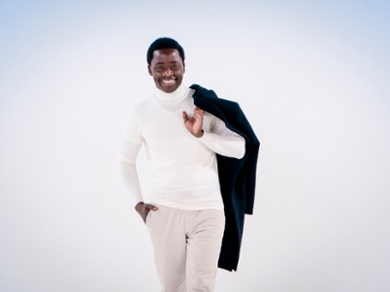 In the FGGA-newsletter we introduce a new monthly feature, the week of....
The kick-off is done by Ayo Adedokun, assistant professor at LUC and one of the four finalists for the National Teacher of the Year Prize for 2022. He gives us a glimpse into his life as a teacher.
'The most interesting part of being a teacher is that there is no 'typical' day. So for me, everyday is a new beginning and never the same. One thing that is constant, however, is that I usually start my day early and I have some daily rituals. First and foremost, I believe what you do at the start of your day can set the tone for the rest of it. So, immediately after hopping out of bed, I start my day with spiritual and physical exercises —from prayers, meditation and journaling to a heart-pumping workout session. This helps 'fill up my cup' before the hustle and bustle of the day begins. Too often, we are so busy with work-related stuff and answering emails; we neglect to carve out time to take care of our body, mind and loved ones. With all the additional stressors of coronavirus, taking care of our physical and mental health are more vital than before. Beyond my morning spiritual and physical exercises, I also prioritize healthy breakfast. My favorite breakfast foods are granola and yogurt..hahaha!'
Rarely a dull moment
'Now, let's take a closer look at what my day looks like regarding my job. As I earlier mentioned, there's rarely a dull moment. I consider teaching to be a calling, and I engage my students as co-creators of knowledge. So, after my spiritual and physical exercises, and good breakfast, I use the early parts of my Mondays and Fridays (i.e. before going to the office) to reflect on my lesson plan and teaching strategy. I plan my lessons ahead of time and enter the classroom each day fully prepared to teach my students new concepts and lead meaningful discussions with case studies, real-life examples, and storytelling – instead of figuring things out as they go. Without a good lesson plan, students can lose focus and teachers may be left scrambling, thinking of what to do next. Having said that, I am also flexible and I know how to adapt my teaching whenever necessary 'to suit my students' abilities and interests.
In terms of weekly schedule for this Block: I teach and also facilitate seminars and tutorial presentations for two courses on Mondays, Wednesdays and Thursdays. The courses are: Global Challenges: Prosperity; and Introduction to Peace and Conflict Studies. Now, let's talk briefly about GC: Prosperity. The course engages students to critically examine the driving factors that determine prosperity as well as the processes and mechanisms of impoverishment. I believe the solutions to global challenges, such as poverty, climate change and Covid-19 pandemic cannot be found within single traditional disciplines. So, I encourage my students to take an interdisciplinary approach to explore important and 'big questions' such as: Why are some countries prosperous while others get stuck in poverty? What are the main challenges of prosperity in a globalized world? How do states, markets and community promote or hinder prosperity? And what role do institutions play in fostering prosperity? I also emphasize critical thinking, promote mastery of course content, and encourage application of course materials to real-world contexts.
Students have different learning styles
The Introduction to Peace and conflict studies course is designed to introduce students to the big ideas, theories, debates and questions in peace and conflict studies. We study how the escalation of intergroup conflicts is shaped by: grievances related to inequalities between groups, grievances related to political exclusion, ideology, and external influence and intervention. Beyond escalation processes, we further study why some conflicts do not escalate to the point of two-sided violence. Of course, we also explore the conditions, actors and processes for sustainable peace.
Recognizing that the 'one size fits all' teaching approach is flawed because students have different learning styles: Some students are auditory learners, some are kinesthetic learners, while some are visual learners. My courses combine innovative and interactive teaching methods and pedagogical approaches to support, challenge and engage my students: These include tutorial presentations, seminars, discussions, storytelling, simulations, case studies, journaling, entertainment, forest walks, and problem-based learning (PBL) approaches to highlight the linkages between theory and practice. Similarly, to model inclusive approaches to intellectual inquiry, my courses have also been 'decolonized'. I avoid universalisms and embrace particularism in my teaching (i.e. context matters). In terms of the course materials, my reading list emphasises the voices of authors from both the Global North and the Global South. As one of my students notes: 'I think one of the main strengths of this course was the professor teaching it, as he had a lot of field knowledge to bring to the course which helped amplify our discussions. In addition, I think that the reading material was also quite extensive, providing a diverse range of perspectives on the different topics covered.' (Institutions in Time – Student Feedback on Teaching Evaluation, 2021).
My Tuesdays are for research and capstone supervision. My Fridays are dedicated to the mentoring and coaching of students entitled 'Coaching and leadership Sessions': Coaching and leadership sessions are an opportunity for LUC students to discuss life beyond LUC, such as potential career paths, graduate programmes, opportunities for self-development (e.g. public speaking, confidence building, leadership development and talent management), strategies for securing summer internships, and more.
However, this week is different in two ways: first, it is Easter week(end). As a practising Christian, Easter means a lot to me: it is about family, faith and love. It is a time of togetherness and spiritual reflection. So, I started my Easter Monday with Easter brunch with my loved ones and I also spoke with my family in Nigeria on Face-Time plus checking students' papers and finalizing their grades. Second, this week is also special because it's a week of preparations for the National Teacher of the Year Election. So, I started this Tuesday with my usual spiritual and physical exercises. But instead of going to the gym this morning, I took a long walk in the park, listened to some jazz music, before dressing up and heading to Utrecht…'
A million thanks to the LUC community for always being there for me. Dank u wel :)