Research, Social
Visit the LUGO Sustainability Day on May 9th, 2023
On May 9th, 2023, the Sustainability Day of the Leiden University Green Office takes place in the Academy building! A day filled with interesting lectures and activities with sustainability as the central theme.
The boundaries of our planet
This year is focused on the the nine 'planetary boundaries', the margin of safety in which our planet can sustian itself. Six of those have already been crossed, which can have dramatic consequences for the environment, climate and life on earth.
Keynote speaker Prof.dr.ing. Jan Willem Erisman opens the programme. From 14:00 until 18:00, you can participate in simulation games, visit lectures and attend workshops. After the regular programme, attendees are invited to join in for drinks and talk about these important matters. For an expanded overview of the different activities, please visit the event page.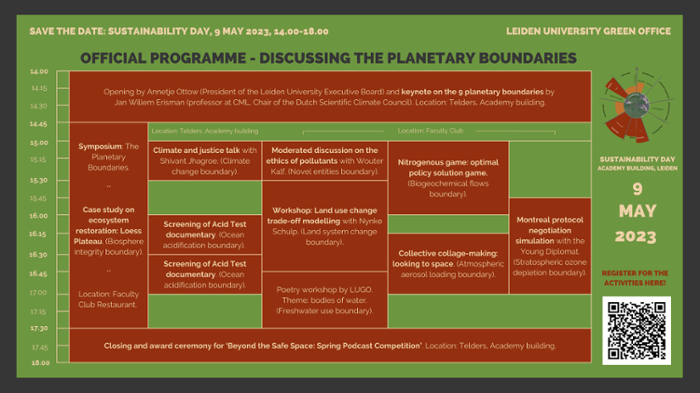 Register now!
To participate in the LUGO Sustainabiltiy Day on May 9th, you will first have to register. This can be done quickly via the registration form, but be aware that there is a limited amount of attendees!
Register here!