Education
Bring your innovation to market with the Venture Academy!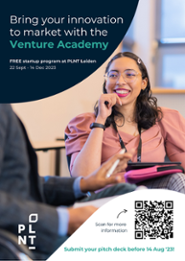 Are you developing an innovative idea and do you have an early-stage startup? Then join PLNT's four-month Venture Academy program! Work with experts, mentors and other entrepreneurs to validate your business case, build a healthy team and raise funding. All you need to join is an innovative scalable idea, motivation, have a provable need in the marketplace, and already taken some steps with your startup.
Interested or questions? Then read more here or book an intake meeting no later than August 13, 2023. The sooner you apply, the greater the chance you will be admitted.