Facility
Free menstrual products at Leiden Law School buildings KOG and the Old Observatory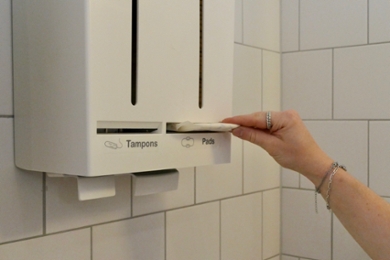 Menstrual products are now available free of charge at KOG and the Old Observatory. They can be found in the women's toilets and the all-gender toilets (see picture).
Dispensing free menstrual products to students, staff, and visitors of the faculty buildings is a pilot and will be evaluated. After this trial, the Faculty Board will decide whether it is feasible to continue the free dispense of menstrual products.
Financial equality is an important element for overall gender equality. By offering free menstrual products, the faculty wants to underline that menstrual products are essential necessities that should be available to everyone regardless of their financial status.
We hope this initiative will help to overcome the taboo surrounding menstruation and promote openness and inclusion in this regard. By making menstrual products available to all individuals, we recognise that menstruation is a natural part of life and no one should feel embarrassed or ashamed because of it. Normalising menstruation contributes to a culture that promotes gender equality and is important to enable all people to fully participate in all aspects of student and work life.
Do you have any questions about menstrual products and/or their use? If so, please email our Student-Wellbeing and D&I Officer: Susanne Deen.