Organisation
Pauline Vincenten appointed new chair of University Council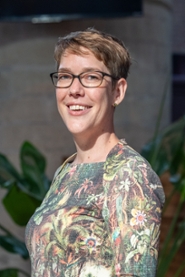 Pauline Vincenten was appointed chair of the University Council on 4 September. She succeeds deputy chair Floske Spieksma.
Pauline has held various roles at Leiden Law School over the past seven years, including the past year and a half as an HR adviser. She is not unfamiliar with co-participation, having previously been secretary to the Central Student Council at the University of Amsterdam. 'It's an honour to be able to spend the next two years representing the interests of all students and staff at Leiden University as chair of the council', she says.
Annetje Ottow, Chair of the Executive Board, is positive about Pauline's appointment. 'Pauline has shown in recent years that she has a great heart for the organization. As a board, we look forward to working constructively with Pauline and the University Council.'
About the University Council
The University Council is the central co-participation body of the University. It is the role of the University Council to keep a critical eye on and advise the Executive Board and in some cases to participate in decisions regarding important matters. The Council has sixteen members, half of whom are elected by and from among the students and half by and from among the staff.