Arts and leisure - Dance
Urban Contemporary
Wednesday from 20:00-21:30 h
Teacher

Amber Smits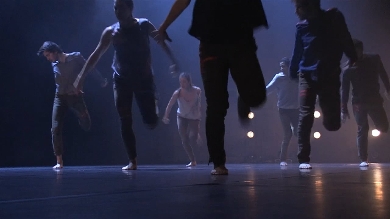 For whom
For students with some dance experience.

Content
In urban contemporary dance we combine urban dancestyles with contemporary techniques. This allows dancers to reach extremes and rawness in their movements. It gives you the opportunity to fully explore the capability of body and mind through movement.
Points of attention in the lesson include rawness, orientation, flow, musicality, dynamics and awareness..

Teacher
Amber Smits graduated from the Modern Theater Dance Program at the Amsterdam University of the Arts in 2020. During her training she gained experience with dance companies such as Leine Roebana, ICK, Club Guy&Roni, Rosas and Forsythe. In addition, as a co-choreographer and dancer, she won the Graduation Prize of the Amsterdam School of the Arts with the piece 'Forever flow of wet long fingers at least a few million touch each other (love you like e.t.) by Elizabeth Taylor Raymond in 2019. Because of her training she is an experienced modern contemporary dancer with knowledge of both modern and classical dance techniques. Fitness is her biggest passion besides dancing. She finds pleasure in strengthening the body and working on a good mind-body connection.
Please contact info@lakcursussen.nl if you have troubles registering for the courses. You can also give us a call at 071 527 2317 | 527 2314
Through registering you are agreeing to the terms the terms and conditions of the LAK.

Register on time! A course can only start with enough participants (this will be decided a week before the start).