Arts and leisure - Dance
Urban Contemporary advanced
Tuesday from 19:00-20:15 h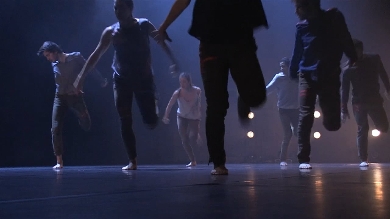 For Whom
For dancers who are interested in learning Hiphop and Contemporary. Fast, short Hiphop movements combined with soft long Contemporary movements.

Content
Over the years, teacher Thu Hang Pham has specialized in Modern / Contemporary Dance. Points of attention in her lesson include rawness, orientation, flow, musicality, dynamics and awareness. We will look for ways to work in extremes to challenge dancers. When does dance become more than just performing movements and does it become more of a (movement) language? What can we tell with our body? She also hopes to get the students to think beyond form and aesthetics to find freedom and surrender in dance.

Teacher
Thu Hang Pham (1992) has gained experience at 5 o'clock class (De Theaterschool, Amsterdam), Peridance Capezio Center (New York City) and Kibbutz Contemporary Dance Center (Israel). She has been trained in various styles in recent years, but soon found out that modern / contemporary dance suits her best. Points of attention in her class are floorwork, orientation, musicality, dynamics and creating awareness about the use of the muscles during dancing.
Please contact info@lakcursussen.nl if you have troubles registering for the courses. You can also give us a call at 071 527 2317 | 527 2314
Through registering you are agreeing to the terms and conditions of the LAK.