Arts and leisure - Dance | Body & Mind
The Powerful Psoas: A movement exploration workshop
Saturday 4 February 2023 - 9:30-13:30 h (with break)
Teacher

Natalie Heller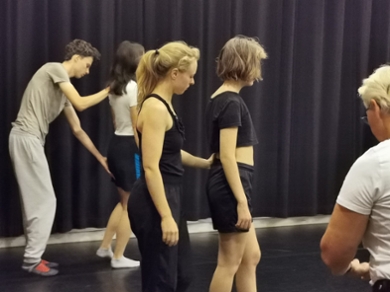 For whom
This workshop is appropriate for people with or without dance experience (it is a mixed level class). You will be asked to explore the muscle on your own and with a partner through movement (this can be through dancing or pedestrian style actions).
Content
Most of us know that the psoas muscle is a hip flexor and helps us lift our legs. Did you know that it is also one of the deepest core stability muscles? It holds the spine in balance. With its anatomical attachments with the spine and the upper leg, this muscle becomes a key player for integration of the upper and lower body.
More magic? The kidneys and adrenal glands lie above it. The diaphragm connects to it via the solar plexus. The nerves that reach into the pelvis and leg run along it. The psoas is important for more than just keeping a muscular balance in the body. It has an effect on our hormonal, nervous and respiratory systems.
More interesting than all of this, is that the psoas is one of the few muscles that connects our body 3-dimensionally. It runs from the back and inner part of the body (the lumbar spine) to the front and outside of the body (the lesser trochanter). This means that the psoas is one of the major compensatory muscles in the body. If your postural alignment is somehow out of balance, it is the psoas muscle which will compensate to ensure your body keeps functioning efficiently.
In this intensive 4 hour workshop we will explore the powerful psoas.
You can expect:
- Anatomical outline
- Hand-on exploration (with a partner)
- Self-hands on techniques, and tips on how to release a hypertonic psoas.
- Tools for how to rebalance the psoas bilaterally.
- Exercises to connect psoas to feet.
- Movement exploration of the psoas and its connections.
Pain concerns: The psoas muscle is often a cause of lower back pain. If you suffer from lower back pain, this workshop is appropriate for you.
Note: The psoas muscle has also been noticed to 'hold emotion'. Please be aware that there may be an emotional, spiritual aspect which surfaces for you as you work through this muscle.

Teacher
Natalie Heller is a choreographer and dance artist. She has an MA in 'Creative Practice' from Trinity Laban and professional training from Dance New Amsterdam (NYC), Movement Research (NYC), Siobhan Davies Studios (London) and Ecole Supérieure de l'Enseignement de la Danse (Montpellier, France). She is interested in body awareness and in helping her students develop energy efficient movement pathways. It was on her exploration of different movement methodologies that she discovered Ashtanga Yoga, Pilates, Thai massage, Body Mind Centering, Contact Improvisation, Alexander Technique, Skinner Releasing, Feldenkrais, Klein Technique and many others. She has been taking movement workshops for over twenty years and has been trained by key players in the field (including Gill Clarke, KJ, Holmes, Malcolm Manning, Eva Karczag and many others). She has been teaching movement techniques since 2006.
More about Natalie: www.natalieheller.com and www.practicingsomatics.com
Please contact info@lakcursussen.nl if you have troubles registering for the courses. You can also give us a call at 071 527 2317 | 527 2314
Through registering you are agreeing to the terms and conditions of the LAK.
Register on time! A workshop can only start with enough participants (this will be decided a week before the start).