Film screening
From Aksum to India: Inclusivity & the Classics
Date

Sunday 11 April 2021

Time

Address

Online film screening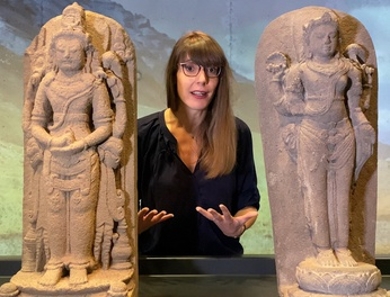 When we speak of Antiquity, this often refers to ancient Greek and Roman history - also known as 'the Classics'. But the ancient world consisted of a great diversity of cultures and civilisations. Numerous interactions and contacts between these cultures, in turn, led to innovations and historical change and development. Greeks and Romans were certainly part of these processes, but they were not the only ones.
In this documentary, From Aksum to India: Inclusivity & the Classics, archaeologist Dr. Marike van Aerde and her international team of PhD and MA students will introduce you to several remarkable examples of this kind of culture contact in Antiquity. Artefacts from Leiden museums are presented (the Rijksmuseum van Oudheden and Museum Volkenkunde), alongside contributions from locations in India, Italy, and the Arabian desert. In this way, you will follow the team on a journey from Aksum to India.
Week of Classics
This documentary was commissioned by the the Week of Classics (Dutch cultural festival 2021), and as such focusses on the parts of the team's research where they encounter evidence of Greek and Roman interactions with the wider ancient world (India, Egypt, Aksum, Arabia). Scenes were filmed in Dutch and English and the documentary will premiere with Dutch subtitles only, on Sunday April 11. From the end of April onwards an English subtitled version of the documentary will be made available.