Conference
SAILS Summer Conference on Law & AI
Date

Friday 25 June 2021

Time

Address

Online
Artificial Intelligence (AI) represents the progress of science. It offers possibilities until recently unimaginable and can solve problems faster, better, and more innovative than ever before. Yet, while such new technologies may provide hope and change, they inevitably disrupt how we conceive reality, leading us to question and challenge existing norms and push us towards an increasingly louder call for legal change. While technology's pace dramatically accelerates, however, legal responsiveness does not always follow as a consequent step. For AI, on the contrary, the European institutions released a proposal for a regulation laying down harmonized rules on artificial intelligence. This proposal sparks much discussion among scholars, raising the question of whether these rules will provide enough safeguards to ensure AI is safe for society.
Focus
In this Conference we will explore how AI impacts society from a legal and regulatory perspective. In particular, we will focus on 3 main topics:
1. Advances in the regulation of AI
2. AI interacting with the Law
3. Teaching the future generations on Law & AI
Participants
This conference brings forth scholars from various disciplines to share their knowledge and discuss the legal and regulatory implications AI has for society.
The speakers include:
Keynote
Catelijne Muller, ALLAI, Member of the High-Level Expert Group on AI
Speakers
Prof. Bart Custers, eLaw Center for Law and Digital Technologies, Leiden University
Prof. Iris Wuisman, Institute of Private Law, Leiden University
Prof. Anne Meuwese, Institute of Public Law, Leiden University
Dr. Francien Dechesne, eLaw Center for Law and Digital Technologies, Leiden University
Dr. Tycho de Graaf, Institute of Private Law, Leiden University
Dr. Peter van der Putten, Leiden Institute of Advanced Computer Science (LIACS), Leiden University
Panelists
Prof. Virginia Dignum, Wallenberg chair on Responsible Artificial Intelligence, Umea University.
Prof. Sofia Ranchordas, European and Comparative Public Law & Rosalind Franklin Fellow, University of Groningen
Dr. Angela Müller, AlgorithmWatch Switzerland
Dr. Andrea Bertolini, Dirpolis Institute at Scuola Superiore Sant'Anna and University of Pisa
Felix Zopf, Department of Innovation and Digitalisation in Law, University of Vienna
Hadassah Drukarch, eLaw Center for Law and Digital Technologies, Leiden University
Carine Karaki, Université Jean Moulin Lyon III, President of European Law Student Association Lyon.
Jan van Staalduinen, Leiden University Medical Center Radiology Imaging.
Moderator
Dr. Eduard Fosch-Villaronga, eLaw Center for Law and Digital Technologies, Leiden University.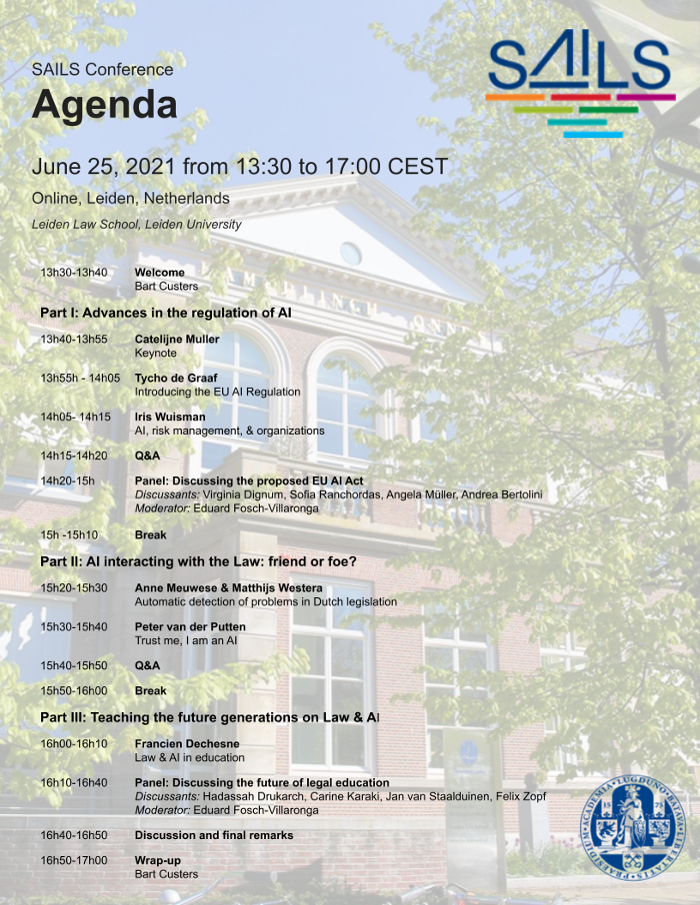 Program and practical information
Program
For a complete overview of the program and invited speakers, you can find the program here.
Date and Time
The conference is set to take place online on 25 June 2021 from 13:30h-17:00h CET.
Registration
To register for this event, please go to the dedicated event website on Eventbrite by clicking here.
SAILS
SAILS stands for Society (Social & Behavioural Sciences, Humanities, Law, Archaeology, Governance & Global Affairs) Artificial Intelligence and Life Sciences and is one Leiden University's interdisciplinary programmes.