Lecture
French-German relations and the European Union
Date

Friday 18 June 2021

Time

Address

Online & Wijnhaven
At the beginning of the Corona Crisis, H. E. Dirk Brengelmann, German Ambassador to the Netherlands, and the French Ambassador to the Netherlands, H. E. Luis Vassy wrote an open letter to all Dutch people in which they called for the debate on the EU's shortcomings to be conducted in a more positive way, to celebrate European unity, and to be proud of the EU and keep faith in it.
On 18 June, Their Excellencies will engage in a conversation about the French-German relations and the European Union with students of Leiden University at our location Wijnhaven. Everyone is welcome to join this event online.
Main language: This discussion is in English
About the speakers
Before being appointed Ambassador to the Netherlands in 2016, Ambassador Brengelmann served as Special Representative for Cyber Foreign Policy at the Federal Foreign Office and then as Germany's Ambassador to Brazil. From 2010 to 2013 he was NATO's Assistant Secretary General for Political Affairs and Security Policy, where he advised the Secretary General on political issues, including NATO's partnership relations and interaction with other international organizations.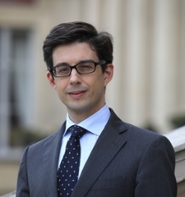 In addition to serving as the Ambassador to the Netherlands since 2019, Ambassador Vassy also represents the French Republic at the Organisation for the Prohibition of Chemical Weapons (OPCW). His diplomatic career began in 2004, and he has held numerous portfolios under French Foreign Ministry since then, from being responsible for French-Indian relations to nuclear non-proliferation. He has been posted in the French embassy in Washington and has worked for different French ministries as cabinet director.
Moderator
The discussion will be moderated by Prof. mr. Jaap de Hoop Scheffer.
Jaap de Hoop Scheffer is Professor Emeritus of International Relations and Diplomatic Practice (2009 - 2014).
Registration
Everyone is welcome to join this event online. If you are a student, you are also welcome to join the discussion live at Wijnhaven.
Please register via this form.
Confirmation e-mail
If you registered before 18 June you received an e-mail with more information and the link to the event. Please check your spam, if you didn't receive this e-mail.
Questions
Do you have any questions about this event, please contact communicatie@fgga.leidenuniv.nl.
Do you have questions during this event for H. E. Dirk Brengelmann, German Ambassador to the Netherlands, and / or H. E. Luis Vassy, the French Ambassador to the Netherlands, please go to world.joinlive.tv.