Lecture
CEES webinar: Women's political representation in Central and Eastern Europe
Anna Gwiazda (King's College London)
Laura Dean (Millikin University, USA)
Gabriella Ilonszki (Corvinus University, Budapest)
Adrienn Vajda (Corvinus University, Budapest)
Anja Vojvodić (CUNY LaGuardia Community College, USA)
Date

Monday 24 January 2022

Time

Address

Online
The symposium explores issues concerning the political representation of women in Central and Eastern Europe.
More than 30 years after the fall of communism, the assessment of women's role in democratic politics is timely and important. On the one hand, there has been growing awareness concerning women's political representation and the need for gender equality in the context of systemic transformation, internationalisation, and Europeanisation. On the other hand, illiberalism, populism and democratic backsliding have taken hold of the region.
Consequently, the main objective of this symposium is to reflect on these developments by addressing the following research questions: To what extent are women represented in CEE politics? What explains the differences in women's political representation in the region? In this online webinar, contributors to a East European Politics special issue—Laura Dean, Gabriella Ilonszki, Adrienn Vajda and Anja Vojvodić—together with a guest editor, Anna Gwiazda, reflect on their findings. The discussion is followed by Q&A.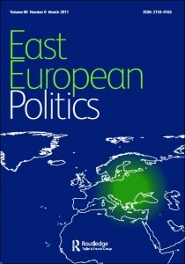 Programme
Monday 24 January 2022, 15:00-16:30
Chair Petr Kopecký, co-editor of the journal East European Politics, Leiden University: Introduction
Guest editor Anna Gwiazda, King's College London: Women's political representation in Central and Eastern Europe; the case of Poland
Contributors:
Laura Dean, Millikin University, USA: Striking out women: preferential voting and gender bias in Latvian Saeima elections
Gabriella Ilonszki, Corvinus University, Budapest, and Adrienn Vajda, Corvinus University, Budapest: Gendered parties and gendered voters in Hungary? "Plus ça change, plus c'est pariel"
Anja Vojvodić, CUNY LaGuardia Community College, USA: Persistent efforts and opportune moments: women's groups and gender quota adoption in Central and Eastern Europe