Postponed: Online book launch 'Crisis and change in European Union foreign policy'
Date

Wednesday 23 March 2022

Time

Address

Online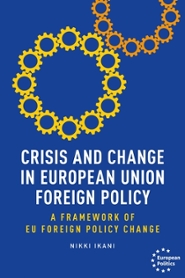 This book launch is postponed to 20 April 2022.
How do crises produce changes in specific European Union foreign policy areas, and how should we conceptualise these policy changes?
This new book by Nikki Ikani provides a novel analytical framework that serves to investigate the way in which the EU changes its foreign policy after crisis. Ikani adapts the existing theorising of foreign policy change to a single framework applicable to the EU context, providing readers with a toolbox to both explain the process of change and measure the policy change that follows. The framework is developed through an investigation of two important EU foreign policy change episodes, taking place after the Arab uprisings and the Ukraine conflict, and test-driven in three recent cases of EU foreign policy change after crisis.
The volume presents a novel typology of EU foreign policy change, advancing on the fields of foreign policy analysis, public policy studies and International Relations. In doing so, it explains both the decision-making process leading to policy change, and the variation in change outcomes following this process. Further to offering those researching the EU foreign policy response to crisis with timely and empirically rich accounts of five recent change episodes, this book adds to the literature by suggesting two forms of EU foreign policy change, symbolic change and constructive ambiguity, which unlike previously argued form frequent and important outcomes of the decision-making process.
Speakers
Anand Menon is the Director of UK in a Changing Europe is an award-winning, impartial academic think tank, which aims to make social science on EU-UK relations, British politics and the UK's changing relationship with the wider world accessible to all.
Nikki Ikani is Assistant Professor Intelligence and Security at Leiden University at the Institute of Security and Global Affairs. She is also a Visiting Research Fellow at the War Studies Department at King's College London.
Karolina Pomorska is a Jean Monnet Chair and Associate Professor in International Relations at Leiden University's Institute of Political Science. She is also an Affiliated Research Fellow of the European Centre at the Department of Politics and International Studies (POLIS) at University of Cambridge.
Dr Tom Casier is Reader in International Relations at the Brussels School of International Studies (BSIS). He is Director of the Global Europe Centre, the University of Kent's research centre dealing with Europe and the challenges it faces in a changing world.
Registration
This is a free event organised by Manchester University Press.
Please register for the webinar via this link.