Postponed: Online book launch 'Crisis and change in European Union foreign policy'
Date

Wednesday 20 April 2022

Time

Address

Online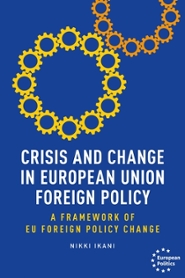 The book launch has been postponed. The new date will be published as soon as possible.
During this book launch and panel discussion Nikki Ikani will discuss her recent book, 'Crisis and change in European Union foreign policy'.
The book centralises a set of questions: What happens to European foreign policy arrangements after a crisis hits? Is EU foreign policy changed as a consequence and if so, how and by whom exactly? And crucially: do things actually change? In the book Ikani studies the decision-making processes of the European Union, to find out which factors determine if and how the EU decides to change its foreign policy course after crisis.
Taking the findings of this book as a starting point, the panel will address the current war in Ukraine, its strategic consequences for the Union and how it may affect European foreign and defence policy in the time ahead.
Speakers
Anand Menon is the Director of UK in a Changing Europe is an award-winning, impartial academic think tank, which aims to make social science on EU-UK relations, British politics and the UK's changing relationship with the wider world accessible to all.
Nikki Ikani is Assistant Professor Intelligence and Security at Leiden University at the Institute of Security and Global Affairs. She is also a Visiting Research Fellow at the War Studies Department at King's College London.
Karolina Pomorska is a Jean Monnet Chair and Associate Professor in International Relations at Leiden University's Institute of Political Science. She is also an Affiliated Research Fellow of the European Centre at the Department of Politics and International Studies (POLIS) at University of Cambridge.
Dr Tom Casier is Reader in International Relations at the Brussels School of International Studies (BSIS). He is Director of the Global Europe Centre, the University of Kent's research centre dealing with Europe and the challenges it faces in a changing world.
Registration
This is a free event organised by Manchester University Press.
Please register for the webinar via this link.