Lecture
Seminar: Fleeting Commitments or Can the Museum be Decolonised?
Date

Tuesday 31 May 2022

Time

Address

Pieter de la Courtgebouw
Wassenaarseweg 52
2333 AK Leiden

Room

1.A21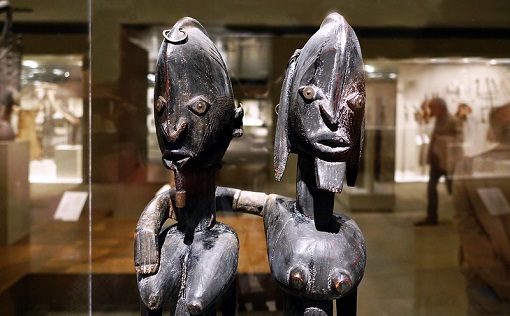 Dogon artwork from the 18th century. Photo credits: Stephen Zucker (via Flickr).
This event will take place both online and physically in Leiden. All registrees will receive a link to the online platform one day before the start of the event.
"Decolonise" as a term, as a concept, has (re)emerged recently to describe diverse demands for and practices of "institutional" change. Numerous grassroots activist initiatives, including Decolonise this Place in the USA and Decolonise the Museum in the Netherlands and other European contexts, have appeared, demanding the decolonisation of museums, universities and archives, as well as curricula, methodologies and even disciplines. What are the promises of, as well as the problems with, such attempts at "decolonisation"? Indeed, these initiatives have not been without contestations, for example regarding definitions or the inclusion and exclusion of certain voices.
In this presentation, Prof. Wayne Modest (Research Centre for Material Culture) explores these demands to decolonise museums, and other heritage institutions, and the museums' responses. he remains close to his own experience of these initiatives, including in other places across Europe, while focusing on the Tropenmuseum, where he has worked for some time. Modest's attempt here will not be celebratory, but explores the numerous issues that have emerged within his work, while making broader comments about the global political moment in which these calls for decolonisation come and what it means for the museum.
Moderator: Prof. Wouter van Beek.
Register via the ASCL website.