Arts and culture
Exhibitions LeidenGlobal 'Crafting Cultures' and '3 Leidsche Mondialen'
Date

Friday 10 February 2023 - Tuesday 28 March 2023

Address

Room

Central Hall (Crafting Cultures) and first floor (3 Leidsche Mondialen)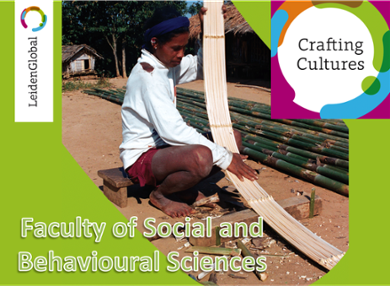 About 'Crafting Cultures'
Crafts and innovation have gone hand in hand for decades. A re-evaluation of crafts and craftsmanship in different cultures becomes more and more visible. This is not a nostalgic return to an idealised past; It is a search for scenarios that offer a better life for future generations.
Crafts can play a central role in different sciences and innovation. Across material disciplines, craft processes have driven breakthroughs that have passed into the other field.
Leiden scholars from different disciplines have dealt with crafts in their research, sometimes as main topic, sometimes accidental. This exhibition shows their photographs related to the theme of craftsmanship, specifically where tradition and innovation are fused through craft.
Three painters from Leiden art collective Mondialen are displayed. The exhibition consists of artworks painted by Jacqueline Borg, Pieter Haanstra and Dea van der Zwan. Numerous paintings will be displayed, inspired by different subjects and painted using different styles and techniques.