Serie
Material Agency Forum
A lecture series debating (the theory of) world archaeology from an interdisciplinary perspective.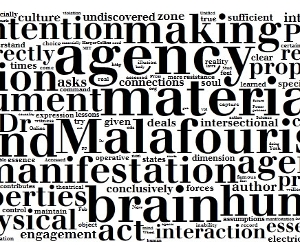 MAF
The Material Agency Forum from Leiden University was established in 2014 and has grown out of the cooperation in teaching and research of scholars from three different Faculties: Prof. Dr. C.A. van Eck (Humanities & University of Cambridge), Prof. Dr. P. ter Keurs (Social Sciences) and Prof. Dr. M.J. Versluys (Archaeology).
The Material Agency Forum aims at being a podium for research on material agency taking place at Leiden University and beyond. Rigorously interdisciplinary from the very start and global in scope, the Material Agency Forum wants to bring together scholars from different disciplines working on material agency. By doing so it also aims to critically evaluate (theoretical) debates on Material Culture Studies as they develop in different countries and different disciplines - and to work towards the development of a new paradigm.
Fundamental to that new paradigm, it is our conviction, is the confrontation of debates on material agency as they take place in various disciplines within the Humanities and Social Sciences simultaneously – while not always profiting from one another.
We have published our intellectual agenda in a positioning paper entitled 'The biography of cultures: style, objects and agency. Proposal for an interdisciplinary approach', Cahiers de l'École du Louvre. Recherches en histoire de l'art, histoire des civilisations, archéologie, anthropologie et muséologie [en ligne] no. 7 (2015) 2-22.
Lectures
To work towards a more integrated perspective, we organize about 5 lectures on material agency each year. These lectures always speak to a multidisciplinary audience of students and colleagues and are followed by sometimes fierce debate. These debates usually are a revelation to both speaker and audience, as we all are forced out of our disciplinary comfort zones with regard to the material turn.
Supported by generous funding from the Leiden Profile Area Global Interactions we have presented a wide array of (international) scholars from outside Leiden to discuss the subject from their perspective over the past years. For the next years our focus will be to balance that international input with Leiden scholars to discuss their research-in-progress in this domain.
The following scholars have presented their research and thoughts on 'material agency' in Leiden over the past four years. For a full list and forthcoming lectures: see further below.
2014 Mike Rowlands; Pascal Griener; Astrid van Oyen; Cecilia Hurley; Anne Gerritsen
2015 Sabine du Crest, Brigitte Derlon & Monique Jeudy-Ballini; Carrie Vout; Chris Gosden; Webb Keane; Anne Lafont
2016 Jos D.M. Platenkamp; Johannes von Müller, Philipp Ekardt and Hans-Christian Hoenes; Isabelle Kalinowski; Suzanne Kuechler
2017 Rosemary Joyce; Philipp Stockhammer; Lembke, Russell, Mol & de Gryse; Marta Ajmar; Suzan Sidlauskas
International scope
Questions on material agency are everywhere, in almost all domains of the Humanities and the sciences. To be able to look beyond disciplines and their national research traditions we have established, in 2016, and international Advisory Board. We call on our Advisory Board for advice on the Leiden lecture series and on our policy for the coming years. The Advisory Board consists of:
Dr. Laura van Broekhoven (Pitts Rivers Museum, Oxford)
Prof. Jaś Elsner (Oxford & Chicago)
Prof. Pascal Griener (Neuchâtel)
Prof. Mari Hvattum (Oslo)
Dr. Astrid van Oyen (Cornell)
Prof. Jos Platenkamp (Münster)
Prof. Mike Rowlands (London)
Teaching
In 2016 we have organised a highly successful Honours Course at Leiden University with students from a variety of disciplines participating and debating our integrated perspective on objects and agency. We will repeat this course in one of the next years.
We are preparing the organisation of graduate courses on material agency between Leiden, the Ecole Normale in Paris and Cambridge.
More output
We have presented our research project at various places over the past years, amongst other occasions at the Festival de l'histoire de l'art in Fontainebleau and the international conference Europe from the outside in? Imagining civilisation through collecting the Exotic (London 2015).
We are working on a second joint article that deals with 'Intrusive objects', to be published soon.
Another outcome of our interdisciplinary cooperation is the volume Beyond Egyptomania in which the transmission of the idea of Egypt throughout time is studied from the perspective of material agency: M.J. Versluys, C.A. van Eck (eds.), Beyond Egyptomania. Objects, style and agency (DeGruyter: Boston - Berlin 2018).
To get an idea of what we are up to, see already C. van Eck, M.J. Versluys, The Hôtel de Beauharnais in Paris: Egypt, Greece, Rome, and the dynamics of stylistic transformation, in: K. T. von Stackelberg, E. Macaulay-Lewis (eds.), Housing New Romans: Architectural Reception and the Classical Style in the Modern World (Oxford University Press: Oxford 2017) 54-91.