Our vision on teacher development
Teachers at Leiden University are experts in their field and passionate about educating students in their discipline. It is also important that they can work effectively as a member of a team, together with colleagues and students, and that they feel committed to our organisation. We will therefore give teachers the opportunities they need for further professional development.
Based on this approach to teacher development, we are working on the following focus areas:
Our approach to teacher development is centred on the teacher development model. This is a tool for teachers and their managers, which can serve as the basis for discussing interests and ambitions. It can also be used for assessing development needs at the team level. The model:
Gives insight into the wide variety of tasks within teaching;

Provides a clear classification for the different professional development activities.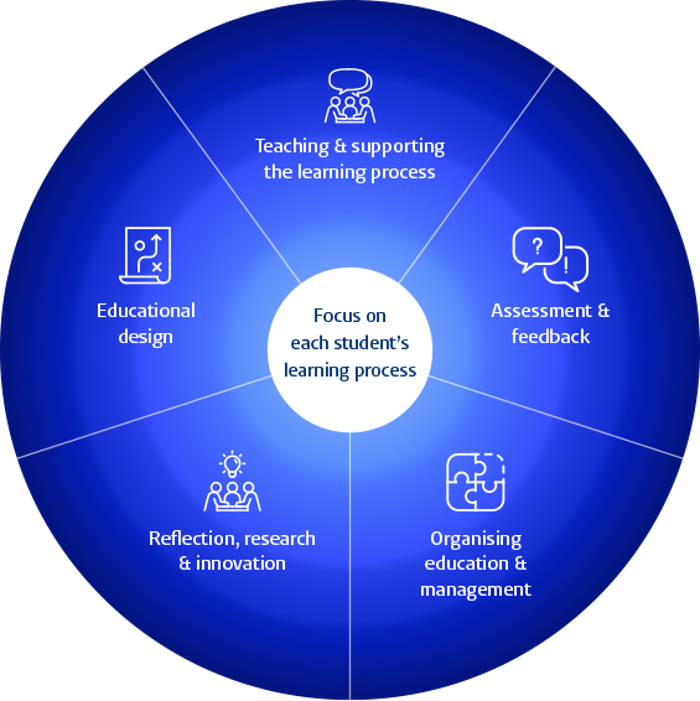 Task domains
The following five task domains are distinguished in the teacher development model:
Teaching and supporting the learning process
This relates to supporting students both in groups and individually. The chosen teaching formats and learning support methods are educationally substantiated and appropriate for the learning objectives and the target group. Teachers ensure that the study materials and instruction are accessible. They also take account of differences in motivation, prior knowledge, aptitude and individual circumstances, and maintain the safe atmosphere at all times.
Assessment and giving feedback
Teachers assess the students' assignments and tests and give feedback on them. The reliability and validity of the assessment is extremely important. Knowledge of formative assessment to increase students' learning potential is also relevant here. Additionally, teachers use results of interim (and final) assessments to evaluate the teaching and make adjustments if necessary.
Organising education and management
This covers the practical coordination of the teaching tasks, such as communication with students, agreements about the learning process, coordination with colleagues, rules & guidelines and support departments. Teachers also evaluate their own and others' professional performance.
Educational design
This pertains to modifying the content and teaching formats of study components to facilitate better achievement of the learning objectives. It also includes responding to students' learning needs, developments in the discipline and current events. Teachers take account of alignment with the curriculum, the digital tools available and constructive alignment within the course.
Reflection, research and innovation
This domain concerns the ability to initiate improvements on the basis of evaluation, reflection and peer feedback. Teachers generate knowledge and understanding of the relevance, interpretation and implications of different types of feedback on teaching, such as student evaluations. They also research their own teaching, in order to respond to changing needs and/or technological developments, and therefore make an active contribution to innovation and improvement of education.
What are the next steps in teacher development in 2023-2024?
In the months ahead we will be conducting pilots to study how the teacher development model can be applied in practice. On the basis of our findings, we will further refine the model, if necessary.
The Faculty of Humanities and the Faculty of Social & Behavioural Sciences are organising pilots for the model: in 2023-2024 a number of focus groups will take place. Are you a staff member of one of these faculties, and would you like to learn more about the model and how you could use it? And would you like to contribute your ideas on its further development? If so, please contact Marlous Dekker and Laura Schneider.
To support professional growth, a challenging and appropriate range of development opportunities must be available for every teacher at Leiden University. Based on the competences in the teacher development model and (inter-)faculty needs, these development opportunities will be constantly adjusted.
Attention will also be given to the corresponding certification (partial UTQ, UTQ and STQ). We aim to improve the alignment between the learning outcomes of the different certificates and ensure that the implementation is uniform in all the faculties. In 2023 we will review the learning outcomes and assessment rubric of the UTQ and make an inventory of the current range of development opportunities.
Some excellent collaboration initiatives already exist within our university teaching, for example via Teams or in relation to workplace learning. Teachers exchange experiences with one another via various teaching communities (both online and in-person), such as buddy projects, mentoring and peer feedback ('intervision') groups. The Teaching Fellows of the Leiden Teachers' Academy (LTA) also constitute an active community. In the online setting, there is cross-fertilisation via groups such as faculty teacher platforms (for example, the FGGA platform) and networks like the Sustainability Network. By making an inventory of these various initiatives and focusing on the 'good practices', we can further encourage, facilitate and strengthen our learning from one another.
Initiatives such as teacher teams and teaching communities are often organised around educational innovation: teachers also research their own innovations and learn from one another. Projects in the area of blended learning, for example, are energised by making them visible to other teachers and sharing results with one another. Given the importance of encouraging research on teaching, we aim to facilitate this exchange of expertise and ensure that projects are widely communicated.
Research, teaching and societal impact are equally important and deserve equal recognition and rewards. By participating in the Recognition & Rewards initiative, we are working on appropriate remuneration for teachers who concentrate on teaching tasks for a longer period and achieve development in these.
We are also committed to giving more place in the organisation for appointments within the 'teacher' (docent) category of the University Job Classification System (UFO). These could be structural tasks and positions, which require specific knowledge and skills but do not require that the teacher also performs their own research tasks. At the individual level, within teacher teams and the curriculum, we will ensure that the integration of teaching and research remains guaranteed.
Managers have the role of encouraging and facilitating their teachers in the area of teacher development. It is important that management gives and requests more attention to the importance of teaching expertise. We are taking the first steps with the 'pilot annual interview'. The new format of the annual interview will not only include reflection on results, but will also focus more on both teamwork in teaching and personal development and well-being.