Personnel affairs
Leiden University is committed to creating a comfortable and pleasant working environment. Nevertheless, employees may still have questions or experience problems in their working relation with the University.
If you cannot solve your problem or complaint in consultation with your supervisor, you can contact the confidential counsellor for personnel affairs. This may be necessary in the following situations:
Communication or other problems with your supervisor and/or colleagues
Changes in your work or in the organisation, possibly resulting from a reorganisation, which in your opinion have improper or unjustified consequences
Malpractices in your immediate working environment that you do not dare to address directly
What can the confidential counsellor for personnel affairs do?
The confidential counsellor tries to open problems for discussion and helps you find a solution. Initially, he or she can help you have the conversations you need to have to solve the problem. In this context all confidential counsellors are bound to strict confidentiality. In some cases, the confidential counsellor will accompany you to an interview, but only in consultation with you.
For whom?
The confidential counsellor is available to anyone who works for the University. The confidential counsellor does not act as a mediator, and never interferes with the course of justice, nor does he or she act as counsellor in any appeal or objection procedure.
Appeals and Objections Committee
If you disagree with a decision that directly affects your interests and you cannot resolve the issue with your supervisor or the confidential counsellor, you can file an appeal against the decision in question via the Appeals and Objections Committee.
Confidentiality guaranteed
The confidential counsellor and the Appeals and Objections Committee, as well as their respective secretary and/or secretariat, are bound by a duty of confidentiality. All information is treated in the strictest confidence.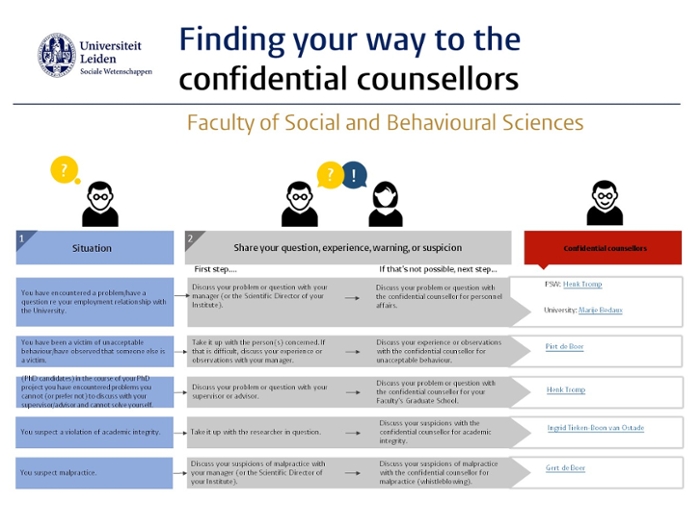 Dissatisfaction with the work environment and the occurrence of conflicts with supervisors and management in general happen in all kinds of organisations irrespective of whatever safety measures have been taken to ensure optimal functioning on the work floor. Many of such conflicts are often the result of miscommunication, misunderstanding, prejudice, etc. and can adequately be resolved if raised in time.
For dealing with such problems the Leiden Faculty of Social and Behavioural Sciences as an organisation has its own independent confidential counsellor in Dr. Henk Tromp. He is available to all staff members and PhD candidates.
When to appeal?
The counseloor is the right person to consult on, or to report to, all kinds of sensitive work-related issues, which staff members cannot openly discuss with their direct supervisor or institute's board. Or in case the actions already taken for resolving the problems have failed to achieve the desired results.
Which kind of complaints can the adviser deal with?
The complaints and points of dissatisfaction should primarily be work-related. For example, conflicts with a supervisor about work load or future perspective, suspicions of discrimination, plagiarism, sexual harassment, feelings of intimidation, hostility, neglect and disrespect. In addition, issues which apply to PhD candidates such as excessive pressure on publishing or lecturing, dissatisfaction with the quality of the supervision, meeting's frequency with (daily) supervisor, feedback's quality and delay and work conditions in general.
What does confidentiality mean?
It is important to emphasize that due to the sensitive character of the consultations the counsellor is obliged to act with the utmost prudence. Confidentiality means that the identity of the staff members and their specific complaints will not be revealed to anyone and that no action will be undertaken without their direct request and full consent as well.
Contact
You can make an appointment by sending an e-mail to Dr. Henk Tromp.