'The University Council keeps the Board on its toes'
Law student Joris Claessens represents the Lijst Vooruitstrevende Studenten (LVS) student party on the University Council. What has he noticed, and what needs to be done differently? 'Online innovations don't move fast enough for me.' This is the third interview in a series of portraits of members of the '17-'18 Council.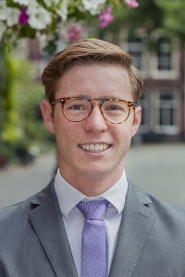 Why are you active on the University Council?
'It's a hobby that got out of hand. I've always been interested in politics and I'd like to make a difference. The university's core business, research and education, is going pretty well in general. But I'd like to see smaller tutorial groups; at the moment they are sometimes still too big. And some organisational matters are not always managed efficiently. For example, I have to keep track of my timetable in different places, in uSis and Blackboard. Why not put it all together in a single digital location?'
What else could be improved?
'Online innovations don't move fast enough for me. At the moment, some lectures are recorded so you can watch them online afterwards, and that's great if you're preparing for exams. It would be nice if that was the case for all lectures throughout the university, but that is apparently difficult to achieve because of privacy concerns. It would also be interesting for students to be able to compare their achievements against others' results. Erasmus University Rotterdam sends you your examination results by text message and provides statistics and a graphic showing how your results stack up against what other students have achieved. Leiden could do that too.'
You've been on the University Council since September 2017. Can you point to any results that have come about with the efforts of the LVS?
'That's tricky to say for sure, because change doesn't happen that quickly in such a big organisation. Our value is mainly in the fact that we constantly draw the Council's attention to current topics and bring these topics to the attention of the Executive Board.
How do you do that?
'We follow both current and proposed policy closely, and ask critical questions. We base those questions on our own research, what we hear on campus and any worrying stories that come up in the media. An example of something we called attention to is the appalling shortage of accommodation for international students, who sometimes have to rough it on a campsite. The work of the University Council keeps the Board on its toes, and it's up to us to promote that as widely as possible within the university. I do that in several ways, including within my own faculty and in my student club Quintus, but I want to represent all students.'
Have you gained any new insights about the university?
'Through my work for the University Council, I get to talk to a lot of employees – from support staff to teachers – which helps me put myself in their shoes. Students sometimes think it's odd if an exam paper hasn't been marked within a week, but they don't realise that a teacher may have hundreds of papers to mark. I have a better idea of the other side of the issue now.'
Stand as a candidate for the staff and student participation!
In April of this year the elections for the new members of the University Council, Faculty Councils and Departmental Councils will take place. Would you like to be involved in this advisory body within the university, to represent the interests of students and staff? If so, now is the time to put yourself forward as a candidate for the university elections!
The official date for nominations is 13 and 14 March. The forms can be found on our website (at the bottom of the page) or are available at the university electoral offices. Hand in your completed forms on 12 or 13 March between 09.00 and 16.00 hrs. at one of the electoral offices.