Giving PhD candidates and post-docs a clear voice
PhDoc is launching a great many proposals to strengthen the position of doctoral candidates and post-docs: from better teaching to their own confidential counsellor and psychologist. Since 2016, Charlotte de Roon, part-time doctoral candidate and coordinator of the Dual PhD Centre, has been the group chair of this party on the University Council. This is the fourth interview in a series of portraits of members of the '17-'18 Council.
Why are you actively involved in the UR?
'I think it's important for doctoral candidates and post-docs to have a clear voice within the university. There are a lot of them, and they make a crucial contribution to the teaching and research, but their position is characterised by impermanence and dependence. That's why it's crucial to have someone who looks at things from their perspective. Before this, I chaired the PhD candidates Network of the Netherlands, and I was glad to turn my attention to the university I work for. For me, personally, working on the Council means I have a good balance between my job at the Dual PhD Centre and my own PhD research; it's fun and informative to think outside my own area.'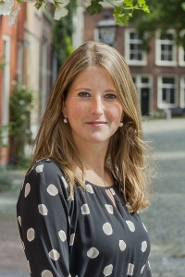 What are PhDoc's priorities?
'Our predecessors have already put the running of the graduate schools, teaching of and by doctoral candidates and careers guidance for doctoral candidates and post-docs on the agenda. A Doctoral Candidates Working Plan (Werkplan Promovendi) was agreed in 2017, in consultation with the board, identifying some areas for improvement. For example, both groups need more suitable modules for their research and lectures, and the younger doctoral candidates in particular want to prepare their teaching better. We also want to focus more on social security and the group of international and external doctoral candidates, as well as appointing a psychologist for doctoral candidates.'
What is your impact?
'My party colleague Marishka Neekilappillai and I keep a close eye on how the Council fulfils the commitments outlined in the Doctoral Candidates Working Plan. We consistently draw the Council's attention to the position of doctoral candidates and post-docs and bring new suggestions to the table. We feel it is important for them to be better prepared for the labour market, because only a small percentage can continue in academia. That could be achieved through short internships outside the university, for example. We also make the case for PhD councils in all faculties, to enable the group to organise better. For many people, taking a seat on the faculty council is a step too far, because it takes up a lot of time.'
What else have you noticed, now you've got to know the university better thanks to the University Council?
'It's interesting to get to know the machinery behind the organisation better. On the one hand, I'm impressed by how hard people here work and the great plans they come up with. On the other hand, I do notice that it is often difficult to make the leap from centralised to decentralised implementation. Faculties have a lot of autonomy. It would be good if they shared more best practices with each other.'