Diversity conference: why is community key?
Hundreds of members of staff and students have already signed up for the annual diversity conference. There are still a few places available. The theme this year is 'Why community is key'. Three speakers will give their views: American professor and activist Barbara Love, former D66 leader Jan Terlouw, and lawyer and equality campaigner Domenica Ghidei-Biidu.
Diversity is one of the key values of Leiden University. But it is clear that this is not something that happens of its own accord. This is one of the reasons the Diversity Office was set up several years ago: to move developments in the right direction. Diversity and inclusiveness are definitely gaining in importance. The Office organises a major diversity conference every year that attracts many participants. This year the conference - Why community is key - will be held in Leiden's Stadsgehoorzaal. There's still time to sign up.
Barbara Love
Barbara Love is emeritus professor of Social Justice Education at the University of Massachusetts­ Amherst. She is also a feminist writer and activist. Love strives for the emancipation of homosexuals (male and female) and of women, including through the National Organization for Women. Another of her achievements is having homosexuality removed from the American Psychiatric Association's handbook of psychiatric disorders (DSM).
'Most universities were originally founded and organised to support the interests of a particular section of the population: white, Christian, and middle and upper class males. Even today, many universities still work from a framework that supports this original population, even though they are trying to become a diverse community.'
Jan Terlouw
Jan Terlouw was for a long time leader of the D66 political party. Since then he has continued in his role as a socially engaged citizen. Last year he made a deep impression on the people of the Netherlands when he appeared on the Dutch television programme De Wereld Draait Door, where he made a strong plea for people to have more trust in one another. He used the metaphor of the string hanging from the letterbox of the front door, so that everyone could take out the key and let themselves in.
Terlouw believes that our society is lacking the third concept of the French Revolution. As well as liberty and equality, we also need fraternity. 'Accept one another, make sure that people feel they belong, don't exclude people because they are homo, immigrants or women. Brotherhood rests on the little things, the interactions between people.'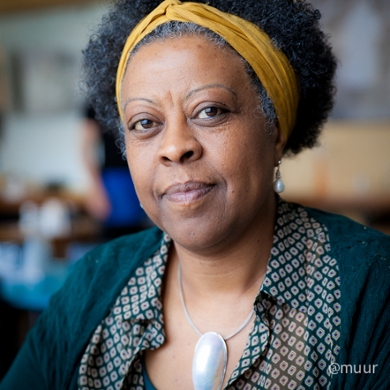 Domenica Ghidei-Biidu
Domenica Ghidei-Biidu found herself at the age of 17 as a refugee in the Netherlands. Very quickly she made a place for herself in Dutch society, including by completing a Law degree. Throughout her life she has been committed to justice, equal treatment and inclusiveness. The many functions she has held have always served to promote these interests.
'If in one of my roles I can make sure that someone's life takes a turn for the better, and that communication or justice is restored, that makes me happy. Of course, things happen that I would rather not see occur, but if you don't have the shadows, you also don't appreciate the light.'
Diversity and inclusiveness: one of the core values of Leiden University
'Leiden University stands for inclusiveness and diversity. It is open to everyone who wants to study or work here and who aims to make the most of their talents. It is an open community where all those who want to contribute to the University's ambitions and principles can feel welcome and will be given equal opportunities.'
Diversity in the vision on teaching and learning Learning@LeidenUniversity
'The ideal learning environment at Leiden University is typified by international and intercultural diversity, and it is an environment that is open to contact with society.'