New record number of PhDs: 447
Once again, a record number of PhD candidates have been awarded a doctorate at Leiden University: 447, compared with 423 last year. This was announced on 6 December at the traditional annual reception for pro-rectors in the Academy Building.
'It would have been great if we had had 444 PhDs as we are celebrating our 444-year anniversary next year,' commented beadle Erick van Zuylen, who presented the figures. The bulk of the extra PhDs come from the Faculty of Medicine/LUMC, where there were 21 more awards than in 2017.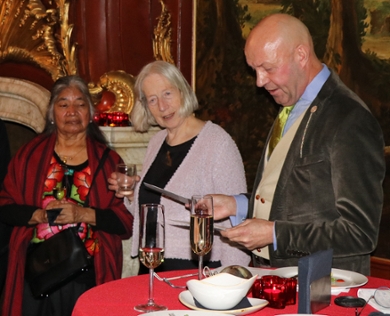 Appointing a second beadle - Frank Geerlings - has proved to be a matter of good foresight. The logistical arrangements needed to plan this growing number of PhDs are becoming more complex. There are now PhD ceremonies on Mondays and Fridays, days that were previously reserved for inaugural lectures and farewell lectures. A new introduction is the lunch PhD ceremony, starting at 12.30 hrs. Breakfast PhD defences were also being considered, but the prospect of starting at 8.45 was too much for those who are not early birds, and the suggestion was rejected. The large faculties, in particular, were asked to help spread the ceremonies over the year so as to avoid bottlenecks later in the year; 44 PhDs were planned between 6 and 20 December.
The baseline is that the PhD candidate and his party should not be aware of the congestion: the PhD defence is an exceptionally important and honourable ceremony for the candidate and the University believes that everything possible must be done to preserve the dignity of the occasion.
Figures
Number of PhDs by faculty
| | | | |
| --- | --- | --- | --- |
| | 2018 | 2017 | 2016 |
| Humanities | 74 | 78 | 72 |
| Medicine/LUMC | 166 | 145 | 145 |
| Governance and Global Affairs | 5 | 3 | 5 |
| Law | 28 | 27 | 33 |
| Social and Behavioural Sciences | 33 | 29 | 29 |
| Science | 124 | 120 | 121 |
| Archaeology | 17 | 21 | 12 |

In 2018 the female/male ratio was: 217 women and 230 men.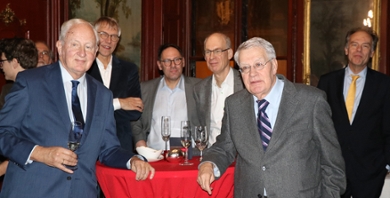 Anecdotes
Beadle Van Zuylen shared some anecdotes from the past year. The Office of the Beadle receivod the following request: 'It is my son's birthday on the day that he defends his PhD. Is it possible to start by singing happy birthday wishes?' Then there was the PhD candidate who insisted on finishing his talk at the point when most candidates give a sigh of relief: once the Hora est has sounded. 'Hora est is Hora est!', the chair of the Doctorate Committee responded firmly. And on another occasion: 'My wife hopes to obtain her PhD on Thursday and my ten-year-old son is mad about Harry Potter. Is it possible to say Aresto momentum* instead of Hora est? He would really like that!'
* Arresto Momentum is Harry Potter's spell that halts a falling object or person to avoid any damage being caused.
44 pro-rectors
The 'pepernoten' party, the fifth of its kind, which is always held just after Sinterklaas, brings together the pro-rectors. For non-Dutch readers, 'pepernoten' are small, spicy biscuits traditionally eaten around the time of Sinterklaas - or Santa Claus. Pro-rectors are emeriti professors who can substitute for the Rector Magnificus at PhD defences as chair of the Doctorate Committee. There are currently 44 pro-rectors, including nine who have just registered. Henk Jan de Jonge, emeritus professor of Bible Studies, trains the pro-rectors for their protocol-rich voluntary work.
Text: Corine Hendriks
Mail the editors