Sporty students and staff raise money for research and teaching projects
In the space of a year, over 100 fundraisers have been started on acties.steunleiden.nl. Students, staff and others with a link to the University have raised around € 50,000 in sponsorship for research and teaching projects at Leiden University.
They reached this impressive milestone by running the Leiden Marathon, playing in a football tournament, rowing for the LUMC and much more. The rowing for the LUMC was on the part of the LHD Vanir8 team from Njord student rowing club. They took to the oars in the Ringvaart Regatta, a 100-kilometre rowing race, and raised money for research into Langerhans cell histiocytosis (LCH), a disease that mainly affects children.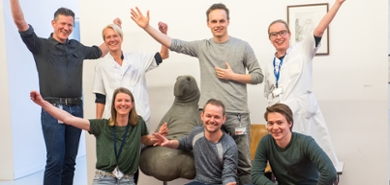 The University staff have also discovered the platform in the last year. Luuk Hawinkels, a researcher at the LUMC, started the team fundraiser 'No guts no glory.' He and his team entered the Leiden Marathon, hoping to raise €5,000 for their research into how tumours spread through the gastrointestinal tract. Their months of training in all weathers were rewarded by over 200 sponsors, and they managed to raise 133% of their target.
Close to heart
Until now 112 staff members, students and others with a link to the University have sprung into action, 12 teams have raised money for scientific research and 1431 generous donors have supported their sporting achievements. The platform's strength lies in its simplicity and the personal involvement of the participants. They enthusiastically share their plans and progress with family, friends and acquaintances on social media. The initiative for a fundraiser lies with the participants themselves, which means the goal is often something close to heart. One person is running to raise money for research into the disease that his sister suffers from, and a group of paediatric staff are running the marathon to raise money for a new child-friendly outpatients' department.
All faculties and institutes
If you have entered a running, rowing or other sporting event or are organising a tournament, why not make it a fundraiser on acties.steunleiden.nl? All institutes and faculties of the University can use the platform and anyone can start a fundraiser. Join a fundraiser or contact Sanne van der Bijl at praesidium.libertatis@leidenuniv.nl if you want to start your own.
Start a fundraiser
If you want to start a fundraiser for a research or teaching project at Leiden University, contact Sanne van der Bijl at praesidium.libertatis@leidenuniv.nl.