Krista Murchison receives Veni grant for 'Righting and Rewriting History'
Krista Murchison, University Lecturer at the Leiden University Centre for the Arts in Society, received a Veni grant of 250.000 euros. Her Veni-project will explore the 'immaterial archive' and its social and historical significance by digitally recreating manuscripts that were destroyed during World War II.
Restore what was damaged and destroyed during the World War II
'Thanks to this funding, I will be able to effectively piece back together some of the cultural heritage that was damaged and destroyed during the Second World War', Murchison says. 'During the war, thousands of medieval manuscripts were destroyed. This is of course quite awful—since manuscripts are, by their very nature, handmade, each represents a unique and irreplaceable witness to history. One of the goals of my project is to track down all possible information about these lost manuscripts, drawing on different types of media, such as pre-war photographs of the manuscripts and medieval library information. This process will allow me to create and analyse an "immaterial archive"— effectively breathing life into manuscript collections that have been lost for almost a hundred years.'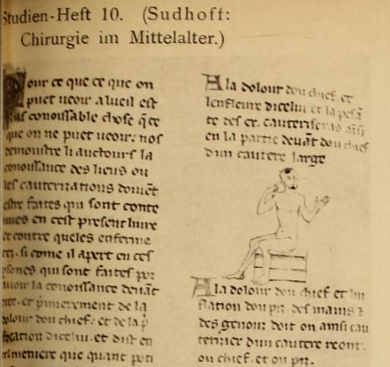 Murchison's first step will be gathering together the scattered fragments of destroyed manuscripts. She will search for photographs, scour library catalogues for references, gather texts from edited collections, and travel to special collections in France, the UK, The Netherlands and Belgium to examine surviving pieces of manuscripts. 'Once I've gathered all this evidence, I'm going to start reconstructing the lost manuscripts and analysing their broader social significance.'
The manuscript on the right, which contained an Arabic medical text translated into French, was destroyed during the war but can be studied through pre-war photographs such as this one.
An online archive of manuscript 'ghosts'
The archive of manuscript 'ghosts' created for this project will be available online in an open access format: the recreated archives will be available to anyone with an internet connection. 'Aside from supporting the aims of this project, this 'ghost' archive will shed new light on the cultural, literary, and archival history of Europe, and on the role of the archive in society', she explains.
Murchison: 'I'm grateful to a number of colleagues whose support was instrumental during the grant application process; these include Professor Sybille Lammes, Prof Erik Kwakkel, the entire LUCAS Management Team, and my current and former colleagues in the English departments of Leiden, Groningen, and the University of Ottawa.'
NWO Veni
A total of 25 young researchers from Leiden University have received a Veni grant. Each year, NWO awards the Veni grants to young researchers, many of whom have recently obtained their PhDs. They receive a maximum of 250,000 euros for curiosity-driven research. Together with Vidi and Vici, the Veni is part of NWO's Innovational Research Incentives Scheme.