HomeUB, blogs, IC night shifts, online concerts and to-do list: This is the lockdown experience of our students!
This was the time to focus on thesis writing? Or it should have been the highlight of your vibrant board year, interactive activities with your student house or student choir? The corona measures have a huge impact on student life in Leiden. Studying and all social activities had to change instantly. This is how our students are making the best of it and share their initiatives and tips with others.
Lianne Belt - BSc Psychology
I'm a third year Psychology student and this year and I'm doing a board year at study association Labyrint! The latter makes this a very crazy time, because I expected to be busy with all kinds of big activities and trips at this time of the year. Despite that my board and I try to make the most of it, by doing board meetings via Zoom or Skype (as you can see on the picture) and organizing online activities for the members! In this way we try to keep the social part of the study association up and running.
In addition, I had an exam last week and I was able to study for that by making a clear schedule in which I plan both time to sit in sun in the garden and to be obliged to lock myself up in my room to study. I would definitely recommend to other students to schedule moments to study with full concentration and reward yourself afterwards with something fun like playing a game with your housemates or (like me) cuddling with your cat in the garden.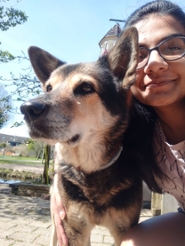 Dhwani Goel - BSc International Relations and Organisations
These times are challenging for me as I am currently writing my thesis. I sometimes find it hard to motivate myself in my home environment. This is why I have made a weekly to-do list, in order to keep myself in check. And of course, my furry friend is keeping me company!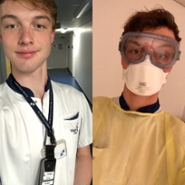 Björn Muijtstege - BSc Psychology
Because my board duties at study sssociation Labyrint and my study programme Psychology have been virtually put on hold due to all the corona measures, I started working at the LUMC. Here I clean the isolated ("cohort") departments during the night shifts, more specifically in the Intensive Care Unit and the Emergency Room. This can sometimes be tough since you are directly confronted with all the shocking consequences of the virus and working in protective material is incredibly warm and uncomfortable. Despite all the negative aspects, I really enjoy working here. It gives a lot of satisfaction and you keep yourself busy with something useful.
In addition to this work, I am currently also taking a course and I still try to do as many board-related tasks as possible. It helps me to work in a tidy and neat room, which is not always a matter of course as a student. I notice that this allows me to concentrate much better and to really be productive.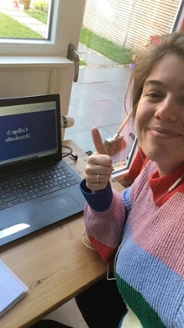 Anne Simon - Academische Pabo
It took some time to adjust, when suddenly the semi-lockdown was a fact. The biggest change for my study programme right now is the practical part, as all the schools are closed. The courses at university still proceed. Sometimes I find it hard to concentrate on my studies, but every day I get up early to keep up the routine. And now that I have more time, I find the spirit to take up some of my old hobbies!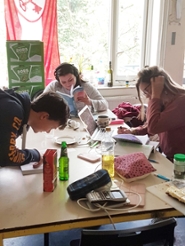 Wisse Herder - BSc Cultural Anthropology and Development Sociology
While it did take some time to get used to it, the lockdown did not change things too much for me. I also see the benefits of online education, as you can stay in bed a little longer in the morning. The thing I do misse is the study sessions in the university library. But me and my housemates found a solution for that at home: the 'ThuisUB'. This way we still can enjoy our endless coffee breaks, taking in account the 1.5 meter distance of course.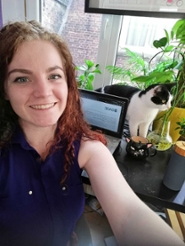 Nienke Luijcks - MSc Applied Cognitive Psychology
Hi! I'm a student of the Applied Cognitive Psychology master track. In this situation I study in my appartement in Leiden. Ik live together with my boyfriend. Now that we are both working and studying in our tiny living room, it is sometimes difficult to concentrate when we bothe have Skype calls at the same time. I notice that waking up at the same time every day works quite well. Both the planning and the daily rhythm
give me a sense of habit which makes it easier to do my study and work. Finally, I try to do my yoga every morning. It gives me a fresh start of the day and it's nice to have some physical exercise each day. And thankfully, my slightly annoying cat makes working from home a bit more bearable!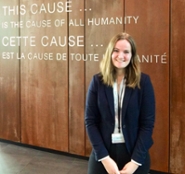 Ingrid Mehammer - BSc International Relations and Organisations
When staying at home and trying to study, it is way too easy to get distracted. Especially if you have gone home to live with your family. My way of handling this has been to close the door to my room when I'm about to start a study session, open up a window to get some fresh air, and put on some lofi music.
My next step is to write down a (semi)-realistic to-do list over what I want to get done that day. This gives me an overview over my tasks, and there is really nothing better than crossing off a task on a to-do list. When sitting down to study I put my phone on "do not disturb" and put it somewhere a little away from me, and use the app "SelfControl" on my computer to block all the websites that I would otherwise have procrastinated on.
Roby Schaap - BSc Cultural Anthropology and Development Sociology
The study associantions of our Faculty started the FSW Blogged Up platform together, where you find blogs with tips from students and staff and it will also appear on the university wide Healhty University @Home platform. Like the stories of Ingrid and Nienke, you can also read my blog there. In this blog I give the advice to take some time every day to ask yourself the question 'What am I feeling today?' and a breathing exercise you can do. When you focus on your breathing, your mind will automatically become more quiet. This simple exercise will help you to feel calmer and more at ease. For this and more tips, check out Blogged Up!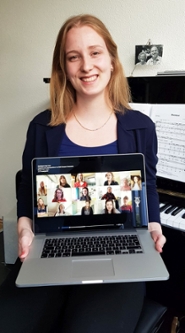 Linde Helfrich, assessor Faculty Board and BSc Internationale Betrekkingen en Organisaties
I'm part of the Sempre Cresendo student choir and since our weekly rehearsals on Thursday evenings are canceled, we thought it would be fun to try to make music together virtually! What started as a test turned out to be a great success! Actually, this was the first time that we made music together online. It might not be the same as singing together in the same room. You can't hear whether your neighbour is singing the right notes and keeping up with rhythms and dynamics is difficult but, in these circumstances it is a very nice alternative. And if it goes wrong, we can just start over and throw the previous recording in the trash. Something we can't do during a concert! My tip to get through quarantine? Fill your living room with music and you are never alone!