Introducing: Eske van Gils
Eske van Gils recently joined the Institute for History as an Assistant Professor. Below she introduces herself and shares her experience with working from home.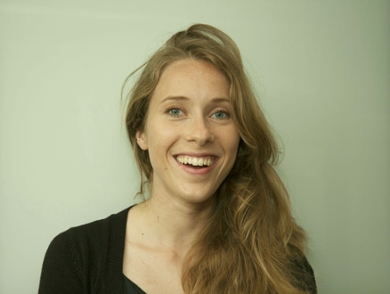 Starting a new job in the current circumstances has been an odd experience. I joined the Institute for History and moved to the Netherlands at the start of August, for a two-year post in the History and International Studies 1900-present programme. Since then, as is probably the case for most of us, my new home also doubles as my new workplace. The living room became the office; the balcony my place for lecture prep; and the 'class room' is the other end of the kitchen table. As you can imagine, the first few weeks in the new job therefore seemed rather surreal – I had started working for the university without even setting foot there.
Thankfully, despite this situation, I've had the opportunity to meet a lot of colleagues already. This has made all the difference. I'm amazed how all of you have managed to make me feel welcome through online meetings, online chats, and even emails. The occasional meetings in person have been wonderful, and hopefully it will be possible to meet everybody in the Institute at some point in the not too distant future. Always up for a coffee or a chat!
The other fortunate part is that it's possible to do a bit of on-campus teaching this block, which also made everything a tad more 'real'. I'm teaching for the MAIR and the BAIS programmes, on courses related to European and EU politics. So far, it's already been really enjoyable, and the students are great (and patient, there certainly have been some obvious logistical challenges). The Dutch HE system has a degree of freedom I hadn't experienced before. It will take some time to find my way around, but it's also a positive experience.
Research-wise, I look at the European Union as well, although mostly the external dimension of its policies and actions. I am interested in understanding the behaviour of authoritarian regimes in interaction with institutions such as the EU. Engaging in international relations could make authoritarian regimes vulnerable, yet some have been able to use relations with the EU to their advantage. My research therefore tries to unpack the mechanisms through which potential threats to regime legitimacy are neutralised. Two concrete areas which I'm currently examining are the Eastern Partnership framework and the Nagorno-Karabakh conflict.
It's exciting that the Institute for History brings together colleagues who have very different academic backgrounds and approaches, and I hope to learn a lot from you all, and really look forward to working together over the next two years. A sincere Thank You to everyone who has given such generous support and advice over the past two months, and for making the Institute a welcoming place in very unwelcoming times!