In the picture: @LeidenLaw staying fit and healthy
Healthy University Week 2020 has started. A week full of (online) activities for students and staff to help us stay in good physical and mental health.
As part of this Healthy University Week, Leiden Law School has organised a photo/video contest to share ideas for a good, healthy life with each other. If you show us how you stay physically and mentally fit – particularly at this time – you could win a delicious basket of fruit.
Some staff have already sent us a photo or video!
Action!
Jacqueline Jongenelen (Account manager FEZ) has installed a pull-up-bar op in her kitchen and uses it almost daily to exercise.
Fresh fruit!
'Food should look attractive!', says Sevike Yelpaze, master coördinator/lecturer in civil law. 'I stay as fit as possible simply by paying attention to what I eat, for example a bowl full of different kinds of colourful fruit. The more colour, the healthier the food. Just seeing all these colours on my plate, makes me feel much better immediately. So my tip is: go for colour, make a game of it!'
Healthy and green!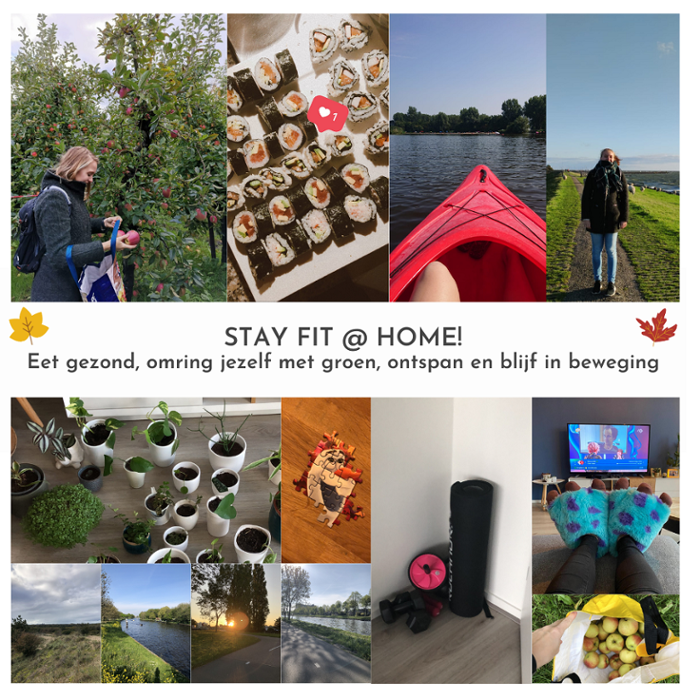 And Maryse Barnhoorn, Online Marketing Specialist at JPAO, has clear advice for us all: 'Eat healthily, surround yourself with greenery, relax and keep moving.' And by the looks of this collage, she follows her own advice!
Join in!
Have you signed up for one of the many activities on offer during Health University Week? Or are you keeping fit and healthy in a different way? Show us and send a photo and/or video to online@law.leidenuniv.nl. Put 'Healthy' in the subject line and who knows, you could win the delicious basket of fruit!