Mark Rutgers reappointed as Dean of the Faculty of Humanities
Mark Rutgers has been reappointed as Dean of the Faculty of Humanities. After a first term where the focus was mainly internal, it's time to look outwards.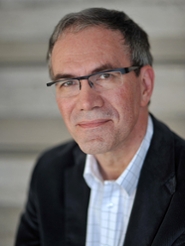 'When I told people about my reappointment, someone said: "That's very brave of you",' Rutgers says. 'That quite surprised me, but university administrators are hard to find, partly because administrative positions are vulnerable. Nevertheless, I wanted to continue at our great faculty. At a university, one term is too short to achieve big changes. Over the last few years, we've made good improvements to our programmes and we're getting more transparent about the division of labour. These things have a positive effect on the workload. In my opinion, there's more peace in the faculty, but we aren't there yet. There are a number of things I want to make sure are brought to a proper conclusion.'
Hard times
For the coming period, making sure we achieve a diverse and pleasant working environment, professionalisation and the new Faculty Strategic Plan are in the pipeline. Corona will also keep leaving its mark on the plans. Rutgers: 'There are some hard times ahead. Corona has brought with it significant costs and new questions, which means there is uncertainty about how we will come out of this period. Apart from that, the Van Rijn commission's proposals on university funding are complicating matters. The room for manoeuvre in the budgets is shrinking.'
Cooperation within the SSH domain
One effect of the redistribution of the resources over the higher education institutions is that the humanities are more often judged on their role in the SSH domain (the collaboration between humanities, social sciences, law and economic sciences). For Rutgers, this means he has to look outside the faculty more often: 'The SSH domain has started to collaborate more on a national level and has become more important. As Leiden's biggest faculty, we need to be strongly represented in that domain. At the same time, this focus means I can do less internally. So, we are working on distributing the workload more equally. The Graduate School will get a director, for example, who can take over some of my tasks.
Visibility as challenge
This shift is good for my administrative development. As long as you're able to learn, you live. A challenge for me will be visibility. Although I don't like going out in public, it is important to show what happens behind the scenes. We are for example part of a nationwide consultation with spokespersons from the House of Representatives, and we have regularly discussions at the Ministry of Education. That may give us some influence on a coalition agreement. These kinds of things all too often remain invisible to employees.'
The visibility has already taken shape in the videos Rutgers recorded during the Corona pandemic for students and employees of the faculty. His English concertina has also a part in this. 'It is an almost unknown instrument. In the Netherlands there are only about ten players. I started to play it, when I got too little time to fence. I restore them myself and, apart from in this Corona period, I go to England for a weekend once a year to practise with other players. I never thought I would record clips; I prefer giving lectures, but this way I can at least show work isn't the only thing in the world.'
Mark Rutgers is Dean of the Faculty of Humanties and Professor of Social Philosophy.