Over 3,600 euros for #wakeuptocorona thanks to NSE respondents
Over the past weeks, thousands of students from Leiden University have filled in the National Student Survey (NSE). To thank them, the university is donating €3,637.75 to #wakeuptocorona.
In the space of seven weeks, 14,551 students from Leiden University completed the NSE – a response rate of almost 45%. As a percentage and in absolute numbers this was the highest of all the Dutch universities. The NSE is a national questionnaire where students give their opinion of their programme: of the topics covered, the supervision they receive, whether the programme prepares them for a future career and more.
The students who completed this year's survey have not only helped improve the teaching, but also contributed to coronavirus research. For each student who took the NSE, the university has donated €0,25 to the LUF's #wakeuptocorona, crowdfunding campaign, resulting in a grand total of €3,637.75.
#wakeuptocorona
The #wakeuptocorona crowdfunder is the initiative of the Leiden University Fund (LUF) in collaboration with the LUMC's Bontius Foundation. It is raising funds for Leiden's research into coronavirus.
On 17 March Zoë van Litsenburg, the assessor at the Faculty of Archaeology, presented LUF director Lilian Visscher with a cheque for €3,637.75. Van Litsenburg said: 'I'm really pleased that so many students took the time to fill in the survey. It's valuable feedback for the programmes, and it's great that thanks to them, the university can donate such an amazing sum to coronavirus research. We kept emphasising this when calling on students to take the NSE – although we did promise our students cupcakes too. The Archaeology study association will be baking them soon.'
Visscher: 'It's fantastic that the students responded in such numbers when asked to have their voices heard through the NSE. They have made this donation possible and are therefore supporting our coronavirus research, which is now entering the next stage.' Professor Eric Snijder recently spoke about this in an interview. He said that the next challenge is to ensure we are better prepared for future pandemics.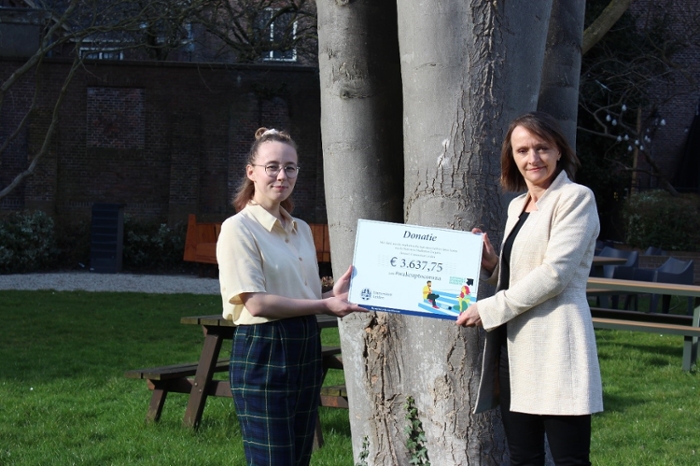 NSE results expected in June
The donation was calculated from the preliminary response figures. Although these may still be adjusted – to correct for incomplete questionnaires for instance – the donation will not. The majority of the NSE results will be published on 23 June, and the remainder in the period that follows. The data file must first be sub-divided into, for example, programmes, open answers and an analysis of the results for the university as a whole.
For Leiden the NSE is an important feedback tool, and the high response rate will make the results all the more relevant. The university will use these results to improve its teaching and facilities at all levels, from the Executive Board to the programme committees.
LUF, also for students
LUF supports the university's teaching and research in other ways alongside the #wakeuptocorona crowdfunding campaign. Director Lilian Visscher: 'We provide grants for faculty projects and to support talented researchers. But students can also call on LUF for activities that benefit their studies, such as a period of study abroad or to organise study-related events with their study or student association. We also offer student membership, which enables them to support the study or student association of their choice.'