The Salm story: the forgotten architects of the Netherlands
Music venue Paradiso, the Keizersgracht Church and the Artis Zoo's aquarium: these buildings all owe their design to architects Gerlof Bartholomeus Salm and Abraham Salm. Remco van der Kuijp researched the place of father and son in architectural history. PhD defence on 25 March.
With a background in notarial and tax law, a PhD in art history might not be an obvious choice, but Van der Kuijp managed to combine the two perfectly. On 25 March, he will defend his dissertation about the lives of father and son Salm, who are often labelled as 'eclecticists' because their buildings cannot be easily placed within 19th-century architecture.
Van der Kuijp: 'By chance, I stumbled across a financial bookkeeping ledger in the archives. It turned out to be a five-year account book, written on thin tissue paper, which he digitised line by line. This makes his dissertation unique because when an architect dies, the entire bookkeeping is often thrown out.
The arrogant architect
Father Gerlof Bartholomeus (1831-1897) was a true craftsman: he started on the building site and worked his way up to the drawing board. His son, Abraham Salm (1857-1915), was the real artist, which can be traced back to his training in Paris.
The correspondence between father and son during his studies is almost complete, enabling Van der Kuijp to reconstruct their lives. 'Abraham received an allowance from his father and had to account for his spending to the penny. When he lost his wallet, he had to report to Dad on his knees, and you can see this in the accounts. If you get that close to a person, the people behind the buildings become real human beings of flesh and blood.'
One of the most striking stories is the one of father Salm who wanted to involve his son in the Artis Zoo building projects. However, the transfer from father to son did not take place, according to popular lore, because Abraham had become arrogant after his time in Paris. Van der Kuijp, however, states it happened slightly different: 'The elder Salm was bad at maintaining contacts. His clients had to ask him several times for the drawings and he sometimes exceeded the budget by 40%. That is the real reason why Artis broke with Salm. Son Salm may have been the reason why it happened, but he was certainly not the cause.'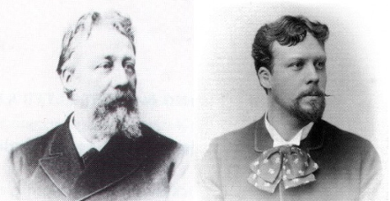 The tragedy of Salm
According to Van der Kuijp, the tragedy of father and son Salm is that many of their buildings have been demolished or closed. For his research, he took the existing oeuvre list and managed to correct and extend it: 'I knew that the elder Salm was friends with the director of the Artis Zoo, who borrowed animals from Carré, the man behind Circus Carré, every winter. By looking into Dutch circus history, I discovered that Salm had made an initial design for Carré's permanent circus. That wasn't even on the oeuvre list.'
Salm in the Amsterdam townscape
With his dissertation, Van der Kuijp makes an attempt to pull 19th-century architecture out of obscurity. 'The average Dutch person knows at most Cuypers or Berlage, but architecture from that time is all around us. Take Amsterdam, for example, where most life is lived around the ring of canals, which are mainly buildings from that era.'
Another example is the music venue Paradiso, which father Salm designed. The building was nominated for demolition several times, but each time it escaped its downfall because it belonged in the Amsterdam townscape. 'They put up buildings, 125 years ago, that are still standing. Both of them evidently knew how to touch something inside us that made us think: we're going to continue with this. Many people think that they have nothing, no ties, with architecture, but if there is something about the building that moves you, the way you walk through it or what it was built for, then you do have something with it.'
In 1879, the church community De Vrije Gemeente, hired G.B. Salm to design the association's main building. Since 1968, famous artists like Pink Floyd held concerts and it became a true 'temple of pop music' (Harry Brieffies, 2018)

G.B. Salm designed the Artis' Library before he and his son designed the zoo's aquarium in 1879 (Wikimedia, CC BY-SA 3.0)

The Keizersgracht Church was designed by father and son Salm in 1888 for the Nederduitsche Gereformeerde Gemeente led by Abraham Kuyper (Wikimedia, CC BY-SA 3.0)

For Jacob Nienhuys, A. Salm designed the 'castle' at the Herengracht 380-382 in 1890. Today, the NIOD Institute resides in the building (Rijksmonumenten, CC BY-SA 3.0)