Students: 'We want to be the most sustainable university in the world'
The students from the Leiden University Green Office have big ambitions and have outlined their recommendations in a new Green Paper. Like being the most sustainable university in the world by 2030. Students Janey Franssen and Job Kemperman are two of the paper's authors. How do they want to achieve these ambitions?
What made you want to write the Green Paper?
Janey: 'The new Executive Board is working on a new strategic plan, and the Green Paper is our way of offering sustainable, green ideas. We've brought these ideas together in a university vision for 2030 encompassing its business operations, research, teaching and impact.'
You're very ambitious: you want Leiden to be the most sustainable university in the world by 2030.
Job: 'Definitely! You have to dare to dream if you want to be sustainable.'
Janey: 'You might as well be really ambitious, but we're realistic at the same time, and are looking at what is possible.'
Where do the most gains stand to be made?
Job: 'Until now, making our business operations more sustainable received most attention: things like reducing our energy consumption and serving less meat in the canteens. That's good and these changes are visible. But we think it's high time researchers and students did more with sustainability too. Many more disciplines could conduct research into the effects of climate change in their field.'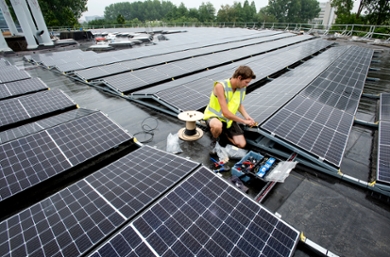 Janey: 'It also applies to the teaching. Some minors do focus on sustainability, but it could be covered in loads more courses. You can come up with something for every single programme.'
Job: 'In medicine, for instance, you could do more research into environmental problems that have a big impact on health, like air and water pollution. The researchers and students at the Faculty of Governance and Global Affairs could do more research into policy and sustainability, and environmental law could be more of a topic at Leiden Law School.'
How do you plan to achieve this?
Janey: 'You can encourage students to write an essay or thesis about sustainability. We've written Thesis Guidelines on how to go about this as a student. Our advice is: don't hit on something to do with sustainability at random but read up on it so you know which topics are interesting and have something to add, and that lecturers will be enthusiastic about too.'
The Green Office can help students here. Last week, for example, they received a mail from a student who wants to incorporate sustainability in his Business Administration thesis. Janey: 'I posted his question in our Teams channel and the other students gave tips on interesting and relevant literature. We'd like lecturers to show willing and help their students think about what kind of research they could do.'
What else is needed?
Job: 'We're still in the start-up phase. but what we really want is to set a movement and culture in motion that generates interest in the different aspects of sustainability. It would be nice if students from the different programmes could find each other because we don't necessarily have to always be providing support. The ball has to start rolling at some point.'
Janey: 'We hope that a community will develop that makes it easy for students to find and buddy up with each other. That could be on a new digital platform, but we're looking at what's needed. And through the Mentor Network they can already contact alumni who deal with sustainability in their work.'
The university is working hard to make its operations more sustainable and has installed solar panels and water refill stations, for instance. Do you have any other recommendations?
Job: 'The university should only use green energy. That would be the biggest step in its operations. I know that in terms of solar panels we've almost reached the limit. Specialists at the university are working on a roadmap to becoming a climate-neutral university, and we're following that closely.'
Janey: 'As Green Office we're the university's critical friend. We look at what it could do better and tell it so. We could encourage our staff to work from home a lot, even after coronavirus, or to come to work by bike or on public transport. We can only achieve a sustainable university if everyone works together.'