eLaw engages the European robotics community in shaping the future of robot regulation
As part of the LIAISON Research Project, Eduard Fosch-Villaronga and Hadassah Drukarch organised a workshop at the European Robotics Forum (ERF 2021) to engage the broader community in the projects' goal of liaising robot development and policymaking.
LIAISON
While robots should be safe, robot regulatory frameworks do not always frame technology development accurately. The LIAISON project is an FSTP from the H2020 COVR Project and investigates to what extent compliance tools (here: the COVR Toolkit) could be used as data generators for policy and standard makers to unravel an optimal regulatory framing for existing and emerging robot technologies. As such, LIAISON is a crucial stepback mechanism to help align robot and regulatory development and improve robot technology's overall safety and market entrance ease.
Seeing regulation (broadly understood) as a tool to advance social goals and subject to adjustments towards this end, LIAISON discusses different regulatory approaches to use iterative governance processes for robot governance. To understand the inconsistencies, dissonances, and inaccuracies of existing frameworks, LIAISON focuses on standards framing safety requirements for personal care robots (ISO 13482:2014), rehabilitation robots (IEC 80601-2-78-2019), and agricultural robots (ISO 18497:2018). For that purpose, LIAISON aims to engage with representatives from the industry, standardisation organisations, and policymakers to present compliance tools as a potential source of information for policy action and understand what information would be helpful to them. A recent example of this is a workshop at the European Robotics Forum (ERF 2021).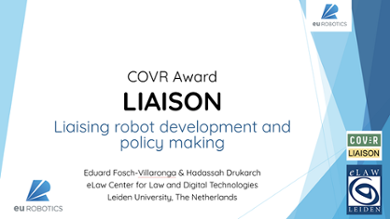 The European Robotics Forum
The ERF is the most influential meeting of the robotics community in Europe, held annually and euRobotics under SPARC, the Public-Private partnership for Robotics in Europe. After its start in San Sebastian in 2010, the European Robotics Forum has grown to become a major annual event with hundreds of attendees every year. The ERF2021 covers all aspects and current themes related to the field of robotics. It welcomes a wide range of stakeholder groups (including researchers, engineers, managers, and a growing number of entrepreneurs, business people, and public funding officers from all over Europe) to discuss technology push and market pull and how innovation in robotics and robotics-related AI can be accelerated.
Engaging the wider European robotics community in LIAISON
As part of the ERF 2021, Eduard Fosch-Villaronga and Hadassah Drukarch organised an interactive webinar engaging the broader European community of robot developers, policymakers, academia, and other stakeholders to gain insight into their perspective on the regulatory approach proposed through LIAISON and the challenges they face when interacting with robot regulatory frameworks in the fields of personal care, rehabilitation, and agriculture. The workshop's goal was to gain insight into the best ways to create an information link between different communities to create norms that frame robot development in crucial sectors adequately.
The results gained from this interactive session were very revealing. 15% of the attendees agreed that a link between robot developers and policymakers is currently missing, and 85% stated that such a link does exist but is far too complex.
Furthermore, the workshop attendees have shown to believe that for the regulatory approach proposed through LIAISON to be valuable and effective, a diverse group of stakeholders should be involved. These stakeholders include robot developers, manufacturers, policymakers, standardisation organisations, legal scholars, and ethicists.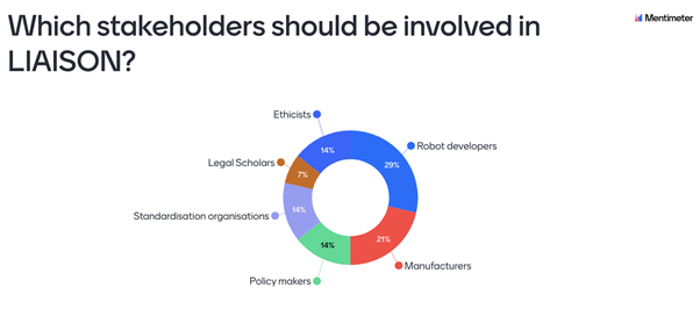 Moreover, concerning the adequacy of standards, they believed that standards should shift from mono-impact to multi-impact, including factors related to ethics, environmental sustainability, liability, accountability, privacy and data protection, and psychological aspects:
These results and the feedback provided on experienced inconsistencies in the relevant standards have allowed for the validation of the LIAISON's underlying problem statement that 'while robots should be safe, standards do not always frame technology development accurately. As a result, user safety may not always be ensured.'
The researchers at LIAISON will process these findings and will integrate them in their project deliveries, informational reports, and policy briefs. The goal is to share the insights with relevant policymakers to close the proposed interactive regulatory cycle, and to effectuate positive and lasting change to existing robot regulatory frameworks and the process through which these are shaped.
For more information read this journal publication, this book chapter, or this Medium blog post.
This project has received funding from the European Union's Horizon 2020 research and innovation programme under grant agreement No 779966.