Caribbean archaeology in times of corona: 'Instead of fieldwork, our students worked on an online exhibition'
Recently, in the midst of coronavirus situation, Professor Corinne Hofman and her team became part of the NWO project Island(er)s at the Helm. Both the application process as well as the start of the project were challenged by the limitations set by Covid-19. 'As a preparation we travelled through the Caribbean in 2020, returning just one day before the first lockdown was established.'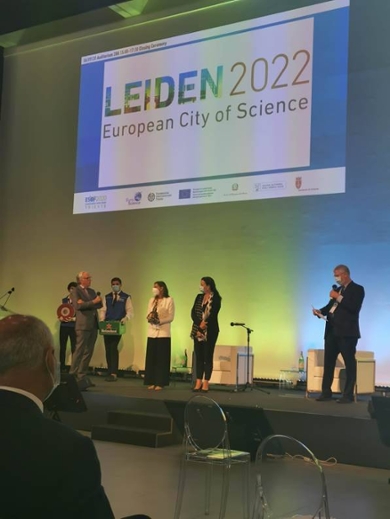 Co-chairing and co-creating
The original idea behind the project in the pre-proposal phase was to focus on a long term perspective of social adaptations to climate challenges, like sea level rise, extreme weather events, flooding and droughts , among communities in the (Dutch) Caribbean. 'While preparing the full proposal, however, I met Francio Guadeloupe, a colleague at the KITLV who had also passed the pre-proposal phase, focusing on the detrimental effects of hurricanes in the northern Caribbean.' The two researchers decided to join forces. 'Both of our projects had an inter-disciplinary emphasis and aimed to co-create with local stakeholders, like governmental and non-governmental organisations, grassroots projects, and local communities.'
Returning from a field to trip to the Caribbean just before the first lockdown was established, Guadeloupe, Hofman and their colleagues wrote the project's proposal during the surreal spring months of 2020, submitting it in July. In January 2021 the news came that they had been awarded the grant! There will be one postdoc and one PhD for archaeology.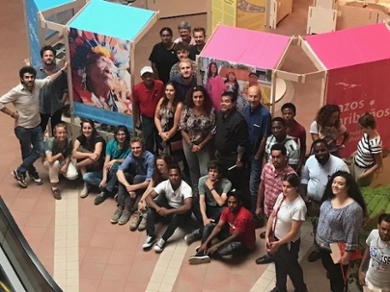 Long term perspective
The project looks at social adaptations to harsh natural circumstances from a long term perspective. 'We investigate solutions that were developed by Caribbean communities in the past and in the present, both in terms of expressions of music and arts, as well as traditional knowledge practices in water, shelter and agricultural management.' Working closely with governmental organisations, it is hoped that the knowledge obtained in this project contributes to new policies regarding cultural heritage management.
The effects of the ongoing pandemic are very similar to natural hazards. 'Covid-19 presents all kinds of challenges. It is a looming humanitarian crisis, especially on a small island, which is already quite isolated.' It underlines the relevance of this project. 'Especially regarding food security, since these islands rely on food imports. During the lockdowns, local food production became extremely important. Here, knowledge on the growing of local foods for example is extremely important. This knowledge goes back to pre-colonial times. With the currently available methods and techniques we are starting to have a good idea of how and what the Indigenous peoples were growing, producing and consuming.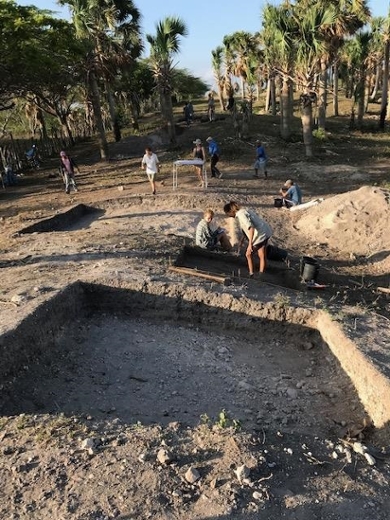 Virtual exhibition
Writing a research proposal during the first lockdown, Hofman's experiences were positive. 'We had a lot of time, since there was no fieldwork last year. Most of the people directly involved either live in Leiden and The Hague, or in the Caribbean and we could easily contact each other via the computer.' For her students, however, the world turned upside down. 'For them it has been a quite dramatic experience, because we were planning to go to the Caribbean with a large team of BA3,and (R)MA students. So we had to implement an alternative plan for them, and we decided to realize a long term plan we had, namely making our NEXUS1492 Caribbean Ties exhibition available for a broader public by turning it into a 'Virtual Caribbean Ties'.
The work on the online exhibition also made sure that the students who were not able to go on fieldwork, could get their EC's in time. 'The Caribbean Ties exhibition is a product of 30 years of Leiden archaeology in the Caribbean , from NEXUS1492 to all previous projects. Finally, we will be able to share this information with a large audience all over world.' Originally, the exhibition featured in the Museon, in The Hague, as well as at this moment on 15 Caribbean islands. 'The website version will also feature behind the scenes information: data on all our excavations and artefacts we have been studying for all these yearswith students from the Faculty' The first version of this online exhibition is scheduled to go online after the summer of 2021, but work on it will continue for quite some time. Up till now c. 40 BA and MA students have participated to create content for this virtual exhibition. The internship will continue during the coming academic year!
Tentative fieldwork plans
With the vaccination campaign on its way, Hofman is carefully looking at the future. 'We hope to return to the Dominican Republic around December of 2021, but only after we all have been vaccinated. Since we could not finish our fieldwork projects in 2020, we are running behind on schedule.' An unfortunate side effect is that many artefacts still need to be processed, while these should be transferred to local museums and be made available for the public; and also that several students have been delayed or had to adapt their research projects as these were based on locally stored artefacts This is just one more example how the corona crisis demands flexibility of us all.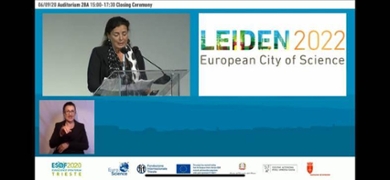 ESOF Leiden 2022
As a final note, Corinne Hofman is one of the two local champions to organize the European Science Open Forum Conference in our city from July 13-16 2022. This is the largest multi-disciplinary conference held in Europe once every two years to debate and discuss major global themes as climate change, migration, population health, contested heritage and much more. Hofman hopes to involve many students in the preparation of this exciting event!