Children and young adults in contact with the law: Systemic vulnerabilities and institutional responses
On 16 April 2021 the webinar 'Children and young adults in contact with the law: Systemic vulnerabilities and institutional responses' took place. In total 17 speakers and discussants engaged with the topic of vulnerability.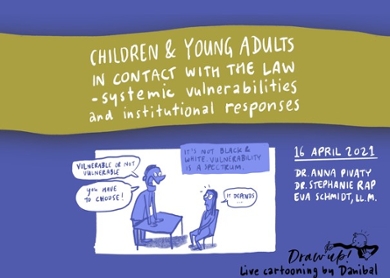 The webinar sought to come to an enhanced understanding of the concept of 'vulnerability' of children and young adults in contact with the law. It explored the systemic and situational dimensions of vulnerability with respect to children and young adults. An international group of researchers shed light on systemic vulnerabilities and institutional responses, with a particular focus on under-explored factors leading to vulnerability.
Professor Ann Skelton (University of Pretoria, Leiden University and member of the UN Committee on the Rights of the Child) gave the keynote speech, 'Upper age limits and beyond'. The first panel, moderated by Stephanie Rap (Leiden University), addressed the under-explored and 'emerging' factors leading to vulnerabilities of children and young adults in criminal justice systems. It included presentations from Anna Pivaty (Radboud University and Maastricht University) who considered the out-of-court disposals in the Netherlands and the position of child suspects; Ingun Fornes (University of Bergen) who discussed the dualistic approach to youth justice in Norway; Christina Peristeridou and Dorris de Vocht (Maastricht University) who addressed the potential impact of remote justice on child suspects; Eva Schmidt (Leiden University) who discussed the position of young adults in the Dutch criminal justice system; and Lore Mergaerts (KU Leuven) who presented an interactive and dynamic approach to suspect's vulnerability in pre-trial investigations. The panel concluded with a reflection from Professor Stefaan Pleysier (KU Leuven), who addressed the need to continue working towards improvement of youth justice systems.
The second panel, moderated by Anna Pivaty analysed vulnerabilities of children based on a different ethnic, religious or cultural origin and the corresponding responses from legal institutions. Stephanie Rap highlighted the views of professionals and refugee and migrant children in the Netherlands on the right to effective participation in asylum proceedings. Iris Sportel (Radboud University) presented the preliminary findings of her research into how Dutch courts take families' ethnic, cultural or religious backgrounds into account when making decisions in respect of children in criminal, migration and family protection proceedings. Nina van Capelleveen (Leiden University) discussed the various interventions that are used to tackle radicalisation of children, and how these interventions can be employed while balancing fundamental rights, child protection and public safety. Yannick van den Brink (Leiden University) addressed the fundamental principle of equality in the youth court and the meaning, perceptions and implications of the principle of equality in youth justice. Caroline Lanskey (University of Cambridge) provided a short reflection on the second panel.
The final panel, moderated by Eva Schmidt, provided the opportunity for (prospective) PhD candidates and post-doc researchers to pitch their research ideas on topics related to the webinar. Eva Huls (Defence for Children), Ioannis Papadopoulos (University of Portsmouth), Lucy Ataro Opoka (Leiden University) and Peggy ter Vrugt (Maastricht University) participated in this session. Professor Masja van Meeteren (Leiden University and Radboud University) chaired the panel and provided feedback to presenters.
This webinar highlighted the importance of addressing the notion of child vulnerability in the legal system as a contextual, interactional and multi-dimensional concept. As observed by Caroline Lanskey, given the traditionally individualised nature of rights, the child's relational self might be currently overlooked by child rights frameworks.
This webinar was organised by Dr. Stephanie Rap (Leiden University), Dr. Anna Pivaty (Radboud University/Maastricht University), Eva Schmidt, LL.M. (Leiden University) with support from Peggy ter Vrugt, L.L.M (Maastricht University/Radboud University) and funded by the The Netherlands Network for Human Rights Research.
For more information go to: Netherlands Network of Human Rights Research (Past events 2021) and to see the presentations of Panel 1 and Panel 2.