Eric De Brabandere: 'Ruling against Shell will inspire other cases'
For the first time, a court has ordered a company to reduce its carbon dioxide emissions. Lawyers see it as a landmark ruling that will have far-reaching consequences for Shell and possibly also other similar companies.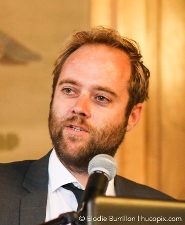 Shell is obliged to ensure a net reduction of its CO2 emissions by 45 per cent by the end of 2030, compared with 2019 levels. In this context, net means that Shell is allowed to compensate for emissions. For example, the company can compensate by planting many trees that capture CO2 in the air or investing heavily in the capture and underground storage of CO2 at refineries.
'It really stands out', says Eric De Brabandere, Professor of International Dispute Settlement. 'Clearly this will inspire other cases.'
De Brabandere commented on the case in The New York Times, CNN and Bloomberg (€).