Introducing: Omar Achfay
Omar Achfay recently joined the Institute for History as PhD candidate. Below, he introduces himself.
A new face to most of you I'm sure. And because, given all the corona restrictions, we will likely not be bumping into each other as spontaneously as one normally would, I would like to introduce myself to you digitally through this newsletter.
My name is Omar Achfay, I am an Amsterdam based interdisciplinary migration researcher with an academic background in Law, Media and Cultural studies. Last April I started my PhD research at the Leiden Institute for History under the supervision of Marlou Schrover and Andrew Shield. Here I will be conducting research into the history of LGBT+ migration from the Middle East and North Africa, and the ways in which Dutch policies and organizations have affected this group over the last decades, and vice versa. The research focuses on the 1990-2010's period and is situated within the European Commission's multi-national Horizon 2020 research project 'Interconnecting Histories and Archives for Migrant Agency: Entangled Narratives Across Europe and the Mediterranean Region'.
In my work, I hope to combine a legal, socio-cultural and a historical approach to migration. As I believe that the concept of migration is best understood when studied through the lens of multiple disciplines. Prior to my start at Leiden University I had been working as a senior Legal Adviser at the Dutch Council for Refugees, before this I worked as a lecturer of Human Rights Law and Migration Law at the Vrije Universiteit, prior to which I worked at the University of Amsterdam as a migration researcher.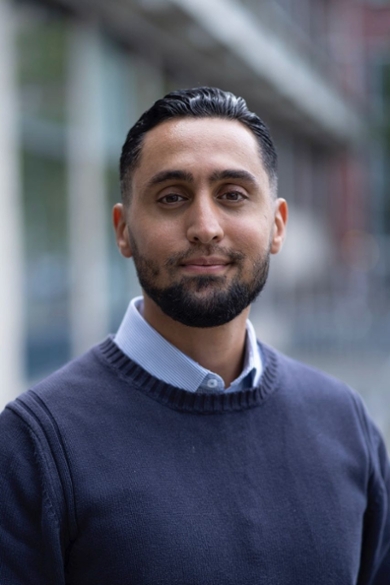 In 2018 I graduated from the University of Amsterdam with a Master's thesis on the eligibility of Maghrebi LGBT asylum seekers for refugee status in The Netherlands. This sparked my interest in the further study of Mena-region migration to Europe through the lens of other disciplines.
In conclusion, to know me is to know that I am an avid lover of anything related to migration and diaspora. I am infatuated with transnational and diasporic cinema, music and literature in the broadest sense of these words. Anything ranging from the French movie 'La Haine', or Spike Lee's 'Do the right thing', to Glatzer's 'Quinceañera'.
I hope to meet you soon whenever the university reopens and the measures can be relaxed a bit more. I am looking forward to getting to know everyone better in the coming years. For now, I wish you all the best of luck working from home!