World Congress of African Linguists (WOCAL): A conference like no other
The 10th edition of the World Congress of African Linguists (WOCAL), hosted by Leiden University, will be held online from 7 – 12 June. Leiden University Centre for Linguistics (LUCL) researchers give us an insight into how important and special this event actually is.
WOCAL takes place every 3 years and is described as being the only truly international and pan-theoretical conference in the field of African linguistics. This assembly of linguists working on African languages and linguistics is held alternately in Africa and in the rest of the world. Since the 1994 inaugural congress (Swaziland), WOCAL has been hosted in Germany (twice), Togo, the USA, Ethiopia, Brazil, Cameroon, Japan, and Morocco.
Opportunities and challenges
The 10th edition would have taken place in Leiden, but the COVID19 pandemic put a stop to that. Fortunately, as WOCAL President Felix Ameka points out, there are two sides to every coin: 'One of the challenges for WOCAL has been that when the congress is held away from Africa, the number of Africa-based scholars able to attend is rather low. The pandemic has made it possible for us to have a high number of Africa-based researchers participate.'
Maarten Mous knows only too well of the challenges and opportunities that come with organising such an online conference. 'LUCL hosts a low-key conference on African linguistics every year. But WOCAL is the major event that brings the whole African linguistics field together. And this 10th edition is special in so many ways. We strive for a truly inclusive conference in terms of spoken and signed language,' says Mous.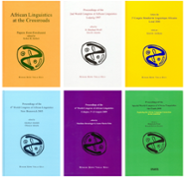 Inclusiveness, sustainability and knowledge creation
This edition's theme is 'African languages for sustainable societies and knowledge creation'. As it states on the WOCAL website: 'only by using African languages in all spheres of social life in African societies does communication become inclusive and information truly accessible to all and lead to reducing inequality and establishing sustainable societies.' WOCAL provides a forum for African linguists from around the world to discuss, network and learn from each other in an effort to bring this about.
'We are very much looking forward to the many presentations, discussions and online events,' says Mous. 'All presentations will be pre-recorded. This is a real challenge for everybody, but it allows us to immediately make all the presentations available on the Open Science Forum.'
WOCAL workshops
When it comes to workshops, participants are spoilt for choice. Topics range from African tone systems and African youth language to African language policies and African Sign Language. Jenneke van der Wal is excited about the workshop on Bantu universals and variation. 'The field of Bantu linguistics has progressed so much over the years; we can now conduct comparative research on the morphosyntax and patterns,' she says.
Ameka is especially looking forward to the pre-WOCAL workshop, Technologies for Enhanced Documentation of African Languages, which is held on 31 May – 4 June. This event brings together researchers involved in language documentation, computer scientists and other stakeholders to discuss bottlenecks that are holding back the documentation of world languages.
As Ameka explains, 'we hope to create synergies between computer scientists and language documenters so that linguists learn more about the possibilities of language technology but, at the same time, computer scientists hear about obstacles related to the use of language technology.'
Celebrating Sign Language
WOCAL 10 also marks the 5th time that a WOCAL Sign Languages workshop is held during the conference. 'This workshop is especially dear to our Sign Language research lab here,' says Victoria Nyst. 'Back in 2009, we pioneered a one-day workshop with 12 talks on African Sign Languages. This edition has almost 30 talks, showing how the field has grown since then.'

To top things off, the workshop will conclude with the HANDS! Festival, a celebration of deaf art and sign language literature. 'During the past one and a half years, we held a storytelling competition in visual vernacular, which is an international form of signing for deaf story tellers and poets from Africa. The festival will feature the five winning submissions,' Nyst explains. 'There will also be a performance by the Alopa, a deaf Ghanaian dance group, as well as deaf painters showcasing their work. All are welcome to join!'
And there you have it. The 10th edition of the World Congress of African Linguists (WOCAL) truly is a conference like no other!
The Hands!Festival is sponsored by the Leiden University Fund (LUF) and Africa2020. The workshop Technologies for Enhanced Documentation of African Languages is the winner of the Lorentz-eScience competition 2020-2021.