Sneaker Team part 2: 'There is still a lot of work to do'
Joao Schim is a business analyst and together with his colleagues of the Sneaker Team, he walks through the buildings of the University for five months. These 6 experts are mapping all measurement and research systems, starting with the Faculty of Science. Joao tells us what he does and what catches his eye.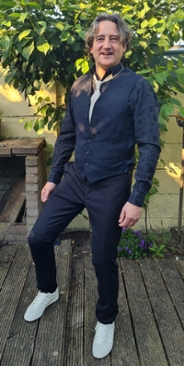 What does a business analyst do exactly?
'Whereas other experts in our team focus more on the technology, I look at the processes in relation to the technology. And I also look at what roles and responsibilities go with them. You need knowledge of ICT and of business administration for that.'
How did you start this job?
'Our team started at Science and we haven't finished there yet. I visit people and interview them. I myself started at IBL and had conversations with the Facility Manager there. He is a key person for me, he knows a lot about the systems and equipment that are in place.
Researchers collect an enormous amount of data. Where does this data go, how is it stored and what happens to it afterwards? These data flows are important to understand. In this way, I can help consider what features are needed in the various phases of a research project.'
Is it complicated to get an overview?
'I notice that the institutes are all different. You cannot compare them with other organisations. What really stands out is the autonomy of researchers. In other types of organisations, you have to get approval for everything first. And there are more standard systems that support you. I think it's incredibly clever how researchers solve the problems they encounter themselves. As a team, we try to contribute to this, so that their solutions also comply with the existing laws and regulations concerning information security.'
I think it's incredibly clever how researchers solve the problems they encounter themselves
That seems quite a challenge
'The challenge is that there are very specific systems of which only a few people know how they work. That's difficult, because people change jobs sometimes. And then who still knows how that system or device works? I try to give advice for these kinds of processes. I try to make reusable process documents and to give advice so that others within the organisation can also benefit from it. That is a nice challenge.'
How are you received?
'So far, people are very enthusiastic. Please come and help us, is what they say. And of course we are happy to do so. At the same time, you notice that people are busy. They often hope that our work will not take too much time. I understand that. So we try to use as little of the precious research time as possible.'
And what help do people want?
'They often want advice on the technology. Is the solution they have come up with right? How do you store the data from that microscope properly and safely?'
Will you visit everyone?
'Essentially, we go everywhere. That's why we wear sneakers, we run around like crazy. We like to look everywhere. What systems are there and what problems do researchers encounter? Tell us, so that we can come up with solutions.'
And do you have solutions for everything?
'It's about covering the risk. You can never do that for the full 100%, there will always be a risk. That is fine as long as it is clear what the risk is and the organisation accepts that risk. With our inventory, we can give advice that can help tremendously.'
Will there soon be advice for each institute?
'There will be an advice for each institute and when we have visited the other faculties as well, there will be an integrated advice for the entire University. In the end, it is the Faculty's responsibility what they take up per institute. It is also important that the people themselves get to work on it.'
Do you have experience with this kind of organisation?
'I worked for nine years at the Royal Library in a similar role. That's why I really enjoy getting to work here. What strikes me immediately is that people use less management language. The focus is on research.'
What else stands out?
'There is a lot of work to be done. The University is all about research and innovation. Information security is not your first concern. But that is becoming increasingly important, which is why we are now helping to catch up. That is a great challenge.'
Do you keep track of your steps every day?
'In my private life I walk almost everything, so I am used to walking a lot. But I never keep track of my steps. I have a lot of holes in my sneakers though, so there must be a lot!'