Statistics for the benefit of the patient
Marta Fiocco has been appointed as of 1 April as professor of applied mathematics, in particular medical statistics. Fiocco's appointment is at the Faculty of Science and at the Leiden University Medical Centre (LUMC). She conducts research into 'personalised medicine', tailor-made medicines for cancer patients.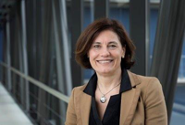 Fiocco develops statistical models estimating survival for oncological patients. She focuses primarily on paediatric oncology, for young people with cancer such as sarcomas or leukaemia. The models developed by Fiocco's research group predict the success rate and side effects of treatments. The aim is to estimate which treatment causes minimal side effects in patients.
Fiocco obtained her PhD from the Mathematical Institute (MI) of the Faculty of Science in 1997 under Willem van Zwet. After a few years as a lecturer at MI, she started as senior researcher at the LUMC in 2002. Her research focuses on complex statistical models for oncological patients. In 2014 she returned to MI. Since then, she holds a joint appointment between MI and LUMC.
Frank van der Duijn Schouten, scientific director of at Faculty of Science, sees Fiocco's appointment as a recognition of her qualities as a researcher and teacher. 'She is an asset to mathematics in general and to MI in particular.'
Two faculties
Fiocco is happy and proud of her appointment, although it was not always an easy journey. 'It is very interesting to work for two faculties. The clinical practice of LUMC was a great inspiration for my research.'
Connection with other disciplines
Van der Duijn Schouten believes that Fiocco's appointment accentuates the connection that MI wants to make with an important application area of mathematics. In this case, the medical discipline of paediatric oncology. 'Through her part-time appointment at LUMC and her connection with the Prinses Máxima Centre in Utrecht, Marta is not only involved in the processing and analysis of medical data, but also works closely with clinicians. This benefits her research and that of her colleagues in the research programme Data Analysis in Personalized Oncology.'