Support for lecturers and researchers
It takes some getting used to, but Maarten Hijzelendoorn is no longer the Blackboard boss: he will now inform researchers about data management. From now on you can turn to Minke Jonk for all of your questions about the new Learning Management System Brightspace. We interviewed them together.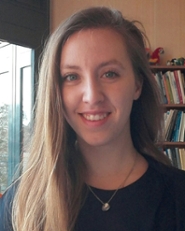 Minke, since when are you the new Maarten?
'Since 1 January. Previously I coordinated trainings for lecturers about Brightspace and the migration of material from Blackboard. That was good preparation.'
What can lecturers approach you with?
'With any questions they might have concerning Brightspace! How it works, where to find certain buttons and what those buttons do. But also how they can shape didactic ideas in Brightspace. I have worked as a lecturer myself, at the English study programme, and I am happy to apply that experience to this new position. Together with my colleagues at ECOLe.'
Are there things that Brightspace is not suitable for?
'It is purely an LMS, so a spider in the web for everything that has to do with interaction with students. It also offers great links with Zoom, Kaltura and Teams. But if you want to, for example, share documents with your colleagues, other tools are more suitable, such as Teams.
That is why we no longer separately create modules in Brightspace. Essentially, those modules come from uSis: when a course exists there, a Brightspace module will be created. We can come up with solutions for grey areas: creating a Teams and adding things that are not meant for students but that are relevant to a course. Which you can then link to in a Brightspace module.'
Has the new LMS been integrated by now?
'Obiously, we went through a weird time. So much had to be taken care of because of Covid, and then the transition…But we do notice that by now lecturers know how the everyday things in Brightspace work. Things are going well. And that is a nice feeling.'
Maarten, do you happen to have any tips for Minke?
'I have two. First of all: the first year is the most difficult one. You can't do everything both at the same time and properly. So stay calm and keep an overview. The second tip: the faculty has a lot of very sweet and understanding lecturers, who will be grateful for the work that you do.'
What will you be doing?
'Something completely new! I will be working in the context of Leiden Research Support (LRS). This is a collaboration between people who handle researcher support at the university. We are talking about all of the things that someone might face before, during or after their research. Regarding finances, for example, or publishing, but also privacy guarantees or ethical questions. The LRS has its own portal, which will be launched in May. For the time being, I will be focusing specifically on data management.'
What is going to be your biggest challenge?
'Making sure that researchers make their data FAIR: Findable, Accessible, Interoperable and Reusable. This means that other researchers can also use it. That is something funders like NWO as well as journals demand more and more. But it adds extra work. Everything that is added to the archive has to be documented using metadata. That process has to become part of yourself.
Of course you get a lot back in return. You receive money from NWO or other funders, your data is safely stored and your research is more visible to and interesting for colleagues, both now and in the future.
My job is to help institutes and individual researchers with this. This will be customised, because you don't want to burden people with things that don't apply to them. Each institute will work with its own data management protocol.'