Bringing a community together with soup
As part of her Anthropology studies, Leiden student Marleen Kop has made a short documentary about the importance of Leiden-Noord's 'soup time'. Her chosen method was participative observation – she spent months helping residents prepare the soup – and the film can now be viewed online.
'Hey, Ronald! Soup?' asks Ali Kundak in the brim-full kitchen of the De Zwijgers community centre in Leiden-Noord. One scene of the documentary shows a gigantic, steaming pan of soup which, after a lot of chopping, blending and stirring, is finally ready to be served. Today is Wednesday, which means it's soup time in Leiden-Noord's De Hoven neighbourhood. Kundak is a mainstay of the residents' association. He and other volunteers organise weekly soup time from their base in the basement of a block of flats on Willem de Zwijgerlaan. Turkish recipes are always in demand, such as local cook Semra's nutritious lentil and yoghurt soup. Residents bring their own pans to collect a free portion of soup from the improvised tent in front of the building, and a team of volunteers are on hand to deliver the soup to people who aren't mobile enough to get to the tent themselves. The project is clearly meeting a need: up to 100 people bring a pan to be filled.
Weekly soup time
Marleen Kop is an undergraduate student of Cultural Anthropology. As part of her Visual Methods module she was given the assignment to make a short ethnographical documentary, and the Learn with the City project put her in contact with a community organiser in Leiden-Noord who told her about various neighbourhood initiatives. The weekly soup time appealed immediately, and Kop was inspired to demonstrate the importance of this great initiative. 'It builds a bond in a neighbourhood where some residents find it difficult to make ends meet,' she explains. 'Ali is such a great asset, someone who can make a real difference.'
Participative observation
The method Kop chose for her documentary 'Wednesday soup time' (available in Dutch) was participative observation: spending a few months helping with the soup days. She rolled up her sleeves and did her own cutting, chopping, stirring and pan-filling, finding time to film and interview the 'soup crew' in between shifts. What made her choose this approach? 'People often behave a bit less naturally if you turn up one day to film and then go away again. And if you do that you're not giving anything back to a community. The volunteers got so used to me that after a while they hardly noticed my camera anymore.' The residents are happy to have the extra publicity, as they want to bring their initiative to the attention of residents and local officials.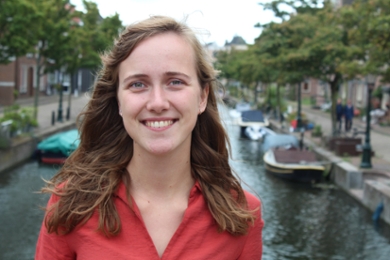 Student bubble
The short documentary will also be used within the municipality to let people know about the initiative. So can we look forward to seeing the film at a documentary festival? Kop thinks that's probably expecting a bit too much – she's only just got to grips with the filming and editing process. Even though she has since completed the assignment, this Anthropology student still regularly gives Kundak and the team a hand at soup time. 'I want to stay in touch with the residents. It's been a valuable experience for me personally to get out of my student bubble.'
Text: Linda van Putten