What does it actually say? Linguist launches video series on wall poems
The city centre of Leiden is covered in them: wall poems. When roaming around, you come across poetry written in the Latin alphabet, but also in scripts that might be more difficult to understand for the average person living in Leiden. In a new series of videos, Tijmen Pronk talks more about this.
'When you roam around Leiden, you will notice a lot of different scripts,' says Pronk. 'But the walk past the wall poems only provides explanations of the poetry, not of the ways in which it was written down. That is why I thought it would be nice to also pay attention to all of the foreign scripts in the wall poems. This way, we create a link between the university, where a lot of these scripts are studied, and the city, where they can be seen.'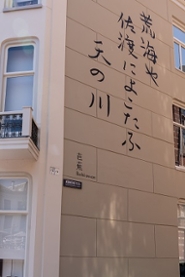 More than decoration
The idea led to videos on ten poems written in ten alphabets. Pronk presents a video in English for each poem, master's students in linguistics Laura Dees and Lotte Meester take care of the Dutch versions. The videos are short, about two minutes each. Pronk: 'This way, people can easily stop to take a look at the explanations when they walk the marked route past the poems.
People learn, for example, that the material that is traditionally written on, determines what a script looks like. Whereas the round shapes of South Asian Lontara work well on palm leafs, angular runes are ideally suited to a stone or wooden surface. 'To a lot of people the poems are now a sort of decoration that they pass every day,' Pronk explains. 'I hope that the videos will make them wonder what it actually is that they walk past and what those scripts depict exactly. This way, we also kind of want to take the scripts out of the exotic. Once you learn a bit more, they become more than just images.'
Secondary school pupils
In this context, a curriculum for secondary school pupils is being created. 'The Taalkunde Olympiade (Linguistics Olympiad, ed.) always includes a question on foreign scripts, in which pupils have to explain how the system works. This way, we introduce them to scripts that are foreign to them. With the videos, we hope to show more pupils that it is not always a given that a language is written down the way we do. That is why we have chosen to have the Dutch videos presented by students. They appeal more to the pupils than I do.'
Take a look at the videos about the poems here. You can find the walk past the poems on muurgedichten.nl.