Hester Bijl: 'On-campus teaching is a big step forward, so take care'
'We're going to see each other again on campus. We're so pleased, but we do have to say safe.' Rector Magnificus Hester Bijl is looking ahead to the new academic year, which begins on 6 September. No more 1.5m distancing, but we do have to take responsibility for other people's safety.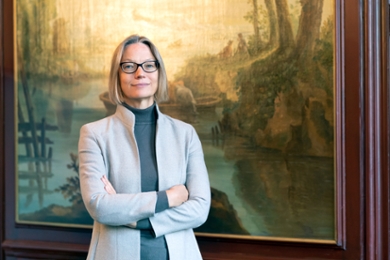 'We're incredibly pleased that students will once again have lectures on campus and that lecturers will be able to teach again. But this has to be done safely. And some students and staff are worried. So let's all make sure we take good care of one another.'
Restrictions eased in new academic year
Hester Bijl, Rector Magnificus of Leiden University, is speaking. Together with her colleagues Annetje Ottow and Martijn Ridderbos, President and Vice-Chairman of the Executive Board, she is really looking forward to the opening of the academic year on 6 September. That's when on-campus teaching will once again be possible without the 1.5m distancing rule, as long as the teaching groups are no larger than 75 and people wear face masks when moving around the buildings.
'Being able to meet up again in our buildings is good for our wellbeing and motivation. And it's important for our students' personal and educational development'
Good for wellbeing and motivation
'We'll be meeting up on campus, to begin with our lecturers and students. It's a huge step for them, after a difficult time of Covid restrictions and isolation,' says Bijl. 'Being able to meet up again in our buildings is good for our wellbeing and motivation. And it's important for our students' personal and educational development – being able to meet our lecturers, researchers and one another in real life on campus is crucial. It's not good for our students to have to do so much of their studying online.'
Custom solutions for vulnerable groups
Bijl says there are also concerns about the teaching starting again, which quite rightly deserve some consideration. 'I understand all too well. There are vulnerable people who are at extra risk. We're offering them custom solutions. Students from vulnerable groups can discuss their situation with their lecturer or study coordinator, and the lecturer will in turn talk to their manager and find the best possible solution. The lecturer will explain what the teaching will be like in a particular lecturer hall, so make sure to listen to what they have to say. And for groups larger than 75, there will be online or hybrid teaching, depending on the programme.'
Stay alert
It is important that we continue to stay alert and follow the news, says Bijl. 'One-and-a-half-metre distancing may be disappearing, but we do have to wear face masks when moving around the buildings between lectures. There's a good reason for that. Use your common sense and stay alert when you're in our buildings. Take good care of yourself and of others too. Make sure to follow the information on coronavirus: read the updates and the Campus Protocol, and keep an eye on the website.'
Vaccinations and safety
The same applies to vaccinations, says Bijl: find out about them and get vaccinated if you can. 'There are locations in Leiden and The Hague where you can turn up without an appointment. And there are walk-in test centres in both municipalities. Make sure to use them. And if you test positive for Covid, let us know. You can do so anonymously. This will allow us to take appropriate steps and keep the teaching environment safe for others.'
Good numbers in introduction week
Bijl has confidence in the coming weeks. 'At EL CID week, the introduction week for first-years in Leiden, we only had about 10 cases and for a few thousand participants that's not very many. Vaccination uptake among young people appears to be high, which is encouraging. You get vaccinated not just for yourself but also for your fellow students and lecturers.'
Working at home
In-person teaching is resuming but most of the University staff will have to carry on working at home for the next few weeks; at least until 20 September, says the government. Bijl: 'We feel for them because it's not always easy. We're now considering other ways of working for when we do go back to the office. The experience of working at home presents opportunities too.'
Back in the office
'We wouldn't have previously thought it possible, but a big academic conference with thousands of people can be go ahead online after all. Holding more such large-scale events online saves time and CO2. Hybrid collaboration will take new shapes too. It will take a bit of getting used to for all of us, but I think that with the right equipment in the meeting rooms it will be perfectly possible. Although I am looking forward to seeing our staff in the office once again.'
Covid measures
Do the Corona Check before you come to the University. For information on the latest situation and measure, see the University's coronavirus updates . And read the Campus Protocol for all the rules and regulations.
Banners with the main house rules have been placed by the teaching rooms in the University buildings. As a preventive measure do a self-test before you come to the University or at least twice a week. Students and staff can order free self-tests at www.zelftestonderwijs.nl. Also take a PCR test with the Municipal Public Health Service (GGD) during or just before the weekend. You can do so even if you don't have any symptoms. PCR tests are more reliable than self-tests. Students and staff can do so free of charge at https://coronatest.nl/.
And if you are a student and you need help, also with your mental health, please see what our Student Support Service have to offer. And if you are a lecutrer who needs help with online and hybrid teaching, please see our teaching support page.