International students in Leiden: 'We can't wait to go to lectures again'
An impressive 875 students from all corners of the globe are taking part in Orientation Week Leiden (OWL). After all the lockdowns in their own countries, they're glad to meet up in real life in Leiden. What do they expect of their studies here?
Iris
OWL President Iris beams as she greets the international students on the first day of OWL, the introduction week for international students. As the participants gather on Lammermarkt, each mentor group is assigned to its own circle to make sure the groups don't mingle. Iris is visibly relieved. 'After months of preparations and uncertainty about the options, I'm so pleased it's finally starting!' Clear Covid guidelines mean the OWL can go ahead in person. On the day before the start, all the participants and mentors have undergone GGD (Municipal Public Health Service) testing – everyone has tested negative – and this mass testing ritual will be repeated every day. The programme is practically the same as in other years; the only difference being that the groups are smaller. One of Iris's favourite parts of the programme is The Lounge: 'Everyone lounging and picnicking together at the Hortus and Observatory. It's going to be a really fun week!' Then Iris will once again devote her full attention to her degrees in History and English Language and Culture.
Peter
This Irish master's student in Astronomy and Data Science is all smiles as he introduces himself to his group. Peter comes from Kildare and hasn't felt lonely for a second. Two of his friends also decided to study in Leiden and they've found a nice flat together right in the centre, a stone's throw away from the Burcht. Peter chose Leiden because of the opportunity to combine Astronomy and Data Science and because he wanted, as he puts it himself, 'to study in a nice town with a lot of history.' But he also wants to explore the rest of the European mainland. 'So hopefully we'll be able to travel again like normal in the next few years, without any Covid restrictions.'
Bryan
Indonesian Computer Science student Bryan decided to change his plans at the last minute, he says. He was still enrolled at an Australian university in Melbourne, but cancelled this when the university recently announced that it would only be offering online teaching for the time being. 'After a year and a half studying at home, I was desperate for face-to-face teaching and that's mostly possible again in Leiden.' He already knew Leiden from previous experiences and knew there's a long tradition of Indonesian students coming to study here. 'The links with Indonesia soon helped me decide to continue my studies in Leiden.'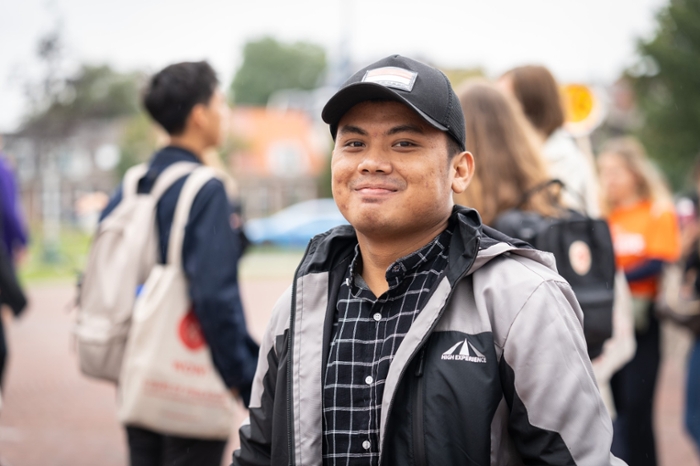 Marta
Just across the way Spanish master's student in Biomedical Science, Marta, is learning the names of her new classmates. What attracted her to Leiden? 'The research side of the programme here has close links to the LUMC and the collaboration with the teaching hospital really appealed to me.' An added bonus is that 'nearly everyone speaks English here.' Marta originally comes from Madrid and is impressed with the small town of Leiden. 'I really like the architecture here.' Finding a room in diminutive Leiden wasn't easy though, but luckily she's found somewhere to live in The Hague. What is she looking forward to most this academic year? 'Spain has been hard hit by the pandemic and the measures there were really strict. Like everyone else I can't wait just to go to lectures again!'
Photos: Monique Shaw
Text: Linda van Putten