Assessor talk: Ebrar Kaya succeeds Jonatan Wirix-Speetjens as assessor
Participating in discussions as a student, at an administrative level? Jonatan Wirix-Speetjens has done so for the past two years as assessor of the Faculty of Humanities. Ebrar Kaya will take over the position of assessor starting this September. In this interview we look back and ahead at the assessorship.
What is it that the assessor does?
The Faculty Board leads the faculty and manages the portfolios of education, research and organisation. The assessor is a student member of the Faculty Board and acts as a link with the students. They can contact the assessor for complaints, suggestions and ideas.
'It was a very valuable experience to be assessor'
For two years, Jonatan was a familiar face at the faculty as assessor. How did that go? 'I have learned a lot, for example, where my interests and disinterests lie', he laughs. 'But above all, I can say that it was a very valuable experience. As a student in the Faculty Board, you are a full board member. That way, you learn about the value of a good participation structure, especially within a faculty that is complexly organised: there are a lot of people in a lot of different places who have the faculty's best interests at heart, but it is sometimes difficult to find each other.'
What makes the situation even more complicated, is the fact that the Faculty of Humanities is devided among two cities: Leiden and The Hague. Jonatan explains that this leads to specific challenges. 'The English-language bachelor programmes International Studies and Urban Studies are based on Campus The Hague. The campus has its own identity with its own challenges and difficulties. That is why we can't just make decisions about The Hague from Leiden, especially not when it concerns students. This year, we have started a panel with The Hague students and together with them we will be discussing how we can support the campus community. That way, we can tackle specific campus challenges in a targeted manner.'
A proud assessor
This year unfolded differently than he had expected, but according to Jonatan, enough has been achieved. 'Firstly, maybe a bit of the elephant in the room, how all of us kept things going despite COVID-19. Everyone was really committed: student associations were so creative and determined and organised a lot of online activities.'
'That brings me to my second point: student wellbeing. I am proud that we were able to get this higher on the agenda as a policy issue. More student psychologists are appointed, for example, and our faculty will be getting its own wellbeing officer. We are not fully there yet, but the first steps have been taken and it is now approached in a more serious way.'
'Lastly, I am also proud of the initiatives that have been developed in the field of Diversity and Inclusion. Together with the University Center of Expertise and our own policy officers we have involved our student panel more closely, expanded our training range for boards and set up a working group for study association boards. This way, we involve student in this topic and policy officers are more aware of what's going on.'
Jonatan has some advice for Ebrar: 'It is a privilige to hold this position, so enjoy it. As assessor, a lot of things will come at you, but luckily you will not have to do it alone. There is a very strong network of students, so make use of it to hear the voices of students. In doing so, it is important to involve all students, not least those who are not necessarily active within the faculty.'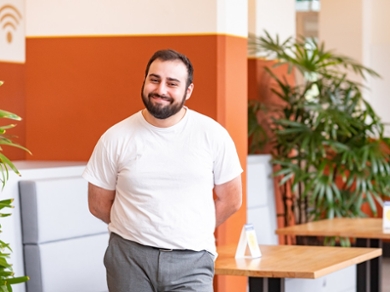 A new but familiar face
The new assessor, Ebrar, is a familiar face when it comes to participation: he was a member of the programme committee, was part of the faculty committee on teaching and was the chairman of a student party. 'I have been here for years, but every day I discover new things. As assessor, you can both assist the faculty and learn how it works. So if you want to think along, being assessor is an excellent opportunity.'
'I like representing students,' he says. 'It is important that every student feels and knows that they are and can be at home here. They should know what the possibilities are within the faculty when it comes to participation. Participation has its influence on education after all, but also on your student days and your student experience.'
Education is therefore high on Ebrar's list. 'It is important that we receive proper education. Calling it 'good education' can lead to multiple interpreations by different people. There are a couple of standard aspects, but it should be accessible and of high quality. Those are not opposed to each other. The quality of education is directly related to what students gain from it. We at humanities are, par excellence, the people who reflect on society, so we should put those spotlights on ourselves as well.'
'If you see me, talk to me!'
The end of COVID-19 is not yet fully in sight and that adds an extra challenge: how do you make yourself visible to students as assessor? 'I'm going to be dancing in the Lipsius building in a cookie monster suit', he jokes, refering to the stunt during the National Student Survey. In a serious manner he continues: 'I would like to make personal contact and to be found. I can be approached directly, so if you see me, just talk to me! I want to make it clear to my fellow students that their input is wanted and that all of their good ideas are welcome. And this, of course, applies equally to international students and Campus The Hague, so it is important that you treat students equally. The example Jonatan mentioned of the Hague student panel is a good start. We are also setting up a POPcorner in The Hague and are working towards a wellbeing officer for the campus.'
Working together to ensure a safe and inclusive faculty
A safe and inclusive evironment, that is what Ebrar stands for, but there is still room for improvement. 'We can see this in the complaints that are issued. It is your right to do so, naturally, but it also shows that there are issues. Luckily, problems are solvable, but to students the roads to get there are often unclear or inaccessible. It is our responsibility to change that.'
And that is exactly something that we have to work on, if it is up to the new assessor. 'We all have our individual vision when it comes to what the faculty should look like, how much of that can we actually achieve? I am very glad that we get to see each other again next semester, to exchange ideas, to brainstorm together and to look at what we can improve - and what is going well!'
Do you have a question for Ebrar, or do you simply want to talk to him? Send an email to assessor@hum.leidenuniv.nl. You can of course also approach him when you run into him somewhere!