Forging Global Citizens: Part 2
The Aernout van Lynden Global Citizenship Award award is a recognition given by the LUC community. Each year a student who has demonstrated the qualities of active engagement, responsive and responsible participation in civic and/or community building, within and/or beyond LUC is presented with the award. Among the many nominated students in the class of 2021 who had engaged in volunteer service to the community, an unprecedented decision was taken to honour not one but two students, namely Diva Estanto and Jennifer Pfister. In part 2 we sit down with Jennifer to reflect on her time at LUC, the meaning of Global Citizenship and to talk about her future.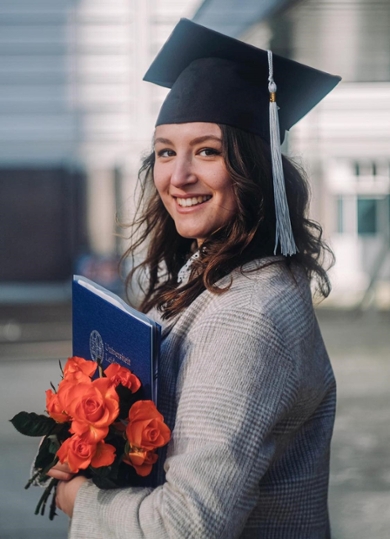 What does global citizenship mean to you?
Embracing and living by the idea of unity – this is what I understand under the idea of global citizenship. It means that we are all interconnected and need each other. The word citizenship implies both rights and responsibilities. Hence, a global citizen respects the Human Rights of every human, and is mindful of the fact that each action (or inaction) can have an impact on others. The wise words of Martin Luther King Jr illustrate what global citizenship is: "We are caught in an inescapable network of mutuality; tied in a single garment of destiny. Whatever affects one directly, affects all indirectly."
Reflecting on your time at LUC, how has your perception of global citizenship changed?
At LUC, I was exposed to many ideas, people and world views which certainly changed my understanding of global citizenship. From learning about Peter Singer's utilitarian ideas on moral obligations to studying foreign interventions that were carried out in the name of "the responsibility to protect" – many classes challenged me to think more deeply about what kind of global citizen I aim to be.
The most important takeaway for me was that we ought to "think globally and act locally." In a talk that I visited at the Peace Palace, UN Secretary-General António Guterres posed the rhetorical question "How will you help the stranger faraway, if you cannot even see the suffering of your neighbor in front of you?" I came to realize that if we want to change the world for the better, we got to start with ourselves and our communities. That is why I found it so rewarding to help set up initiatives like "Women in Innovation and Leadership" and listen to the voices of youth while serving as German Youth7 and G(irls)20 delegate.
As a new cohort of students arrive at LUC, what advice do you have for them?
My advice for new students - but really for anyone – is: walk through life with an open mind and heart, be curious, experiment, do not be afraid of mistakes and fail forward! Instead of trying to be perfect, be authentic. Explore different hobbies, ideas, classes, projects and relationships wholeheartedly to figure out what sets your soul on fire. It is a journey of finding out what makes you shine the unique light you bring to the world the brightest.
The most useful advice I have ever received while taking the Becoming a Changemaker Class during my academic exchange in California was: "Life is a marathon, not a sprint." I hope all incoming students take self-care seriously and always remember that we cannot pour anything from an empty cup. To spread compassion in the world, you have to be compassionate with yourself, too. Lastly, I highly recommend Eckhart Tolle's book "A New Earth" which helps us better understand how we can overcome the ego-driven need of self-destruction that is responsible for many of the challenges in the world today.
Having now graduated from LUC, what comes next for you?
Right now, I am pretty much in an "exploration mode" trying out a totally different lifestyle and jobs. Earlier this year I realized my dream of becoming a digital nomad and have worked remotely from Kenya, Italy and the Netherlands since. I enjoy the uncertainty of not knowing where I will be next – it gives me a sense of freedom I have missed sometimes during my studies.
On the professional side, I have been working for a German Women Leadership Network that contributes to Gender Equality in the economy, and am now transitioning into my next remote job in Sales at the social business "Employers for Equality." I consciously chose to work part-time because I want to focus on my spiritual development and some passion projects that have been on my mind for a while. One of them is the launch of my group coaching program From Good Girl to Badass. This program is the cumulation of the most useful tools, coachings, excercises, books and seminars that have helped me grow over the past years. I am trying to resist the urge to plan further next steps and be more present in the now instead, letting life flow and opportunities unfold themselves.
Leiden University College The Hague offers a broad, flexible and interdisciplinary residential Liberal Arts and Sciences programme with a focus on Global Challenges. In this bachelor programme students specialise in relevant fields like world politics, economics, governance, international justice, human & cultural interaction, global public health and environmental sciences.